News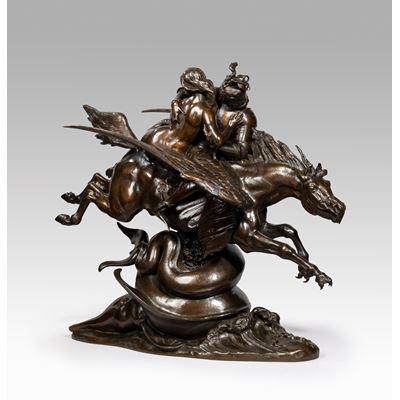 Galeriste parisien, spécialiste de la sculpture des XIXe et XXe siècles, je possède deux lieux d'exposition l'un rive droite, l'autre rive gauche face au musée du Louvre. Je souhaite partager avec vous deux siècles de création sculpturale. Le XIXe siècle est majoritairement représenté par les bronzes d'Antoine Louis Barye (1795-1875) avec pour chef-d'œuvre l'imposant groupe d'une rareté absolue, Angélique et Roger, montés sur l'Hippogriffe (première version, bouche ouverte, cfr illustration sur le site). Jean-Baptiste Carpeaux (1827-1875) quant à lui, nous démontre toute sa fougue avec la représentation jaillissante du Génie de la danse n°1, bronze tiré du groupe de l'Opéra de Paris. Autre oeuvre emblématique de la fin du XIXe, Le baiser d'Auguste Rodin (1840-1917) dont nous possédons la réduction « n°2 » fondue du vivant par Barbedienne. Le sculpteur a choisi de représenter les deux amants au moment où ils prennent conscience de leurs sentiments dans une étreinte tendre et charnelle. Dans un tout autre registre, puisqu'il s'agit maintenant d'évoquer le XXe siècle, place d'honneur à la Belgique, avec le grand sculpteur animalier surnommé « le Bugatti belge », Albéric Collin (1886-1962); il nous livre ici un charmant groupe de deux singes nommé Saltimbanque en référence à leurs activités de divertissement.
Dossier de Presse BRAFA 2023 - Galerie Nicolas Bourriaud

CONTACT
ABOUT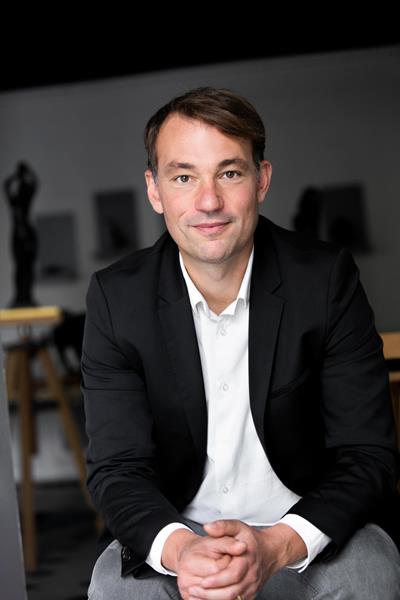 Fascinated since his teenage years by nineteenth- and twentieth-century sculptures, Nicolas Bourriaud began his career at an early age, in 2010, at the Louvre des Antiquaires. This productive experience enabled him to open his first gallery in 2015 at 205, rue du Faubourg Saint-Honoré. In 2020, he set up a second gallery at 1 quai Voltaire. Works by some of the greatest sculptors such as Barye, Belmondo, Bugatti, Carpeaux, Dalou, Godchaux, Guyot, Rodin, Pompon and Sandoz are currently on display in the two galleries. An outstanding collection of bronze artworks with nuanced patinas stamped by prestigious foundries such as Barbedienne, Hébrard, Rudier, Siot Decauville, Susse, Valsuani etc., which is also enriched by remarkable marble, terracotta, biscuit, sandstone and plaster sculptures.
Founded : 2010
Specialisations
Sculpture from the 19th and 20th century
Associations
S.N.A. Syndicat National des Antiquaires Négociants en Objets d'Art Tableaux anciens et modernes de France, CNES Chambre Nationale des Experts spécialisés en objets d'Art et de collection
Fairs
PAD Paris, PAD London, La Biennale Paris, Masterpiece London, TEFAF Maastricht