9
---
21/01/2014
Treasures to hand down, wonderful stories to share

By François Schuiten, comic book artist and scenographer, and Dominique Allard, Director of the King Baudouin Foundation

The King Baudouin Foundation's devotion to the transmission of cultural...
22/01/2014
Living with Style

By Axel Vervoordt, gallery owner, antique dealer, interior designer....

Axel Vervoordt is considered one of the most original and adventurous collectors and dealers of our time. His is known worldwide for...
23/01/2014
The Enchanted Pose rediscovered – When a Magritte hides a Magritte...
By Michael Duffy, Painting Conservator, and Danielle Johnson, Curatorial Assistant, Department of Painting and Sculpture - Museum of Modern Art, New York

During the preparation of the exhibition...
24/01/2014
What a mask can say: thoughts on the iconography of a RMCA Luba masterpiece

By Dr Julien VOLPER, art historian, researcher and assistant curator of the section of ethnography at the Royal Museum for Central Africa in Tervuren (RMCA)

The famous horned helmet mask collected by Oscar...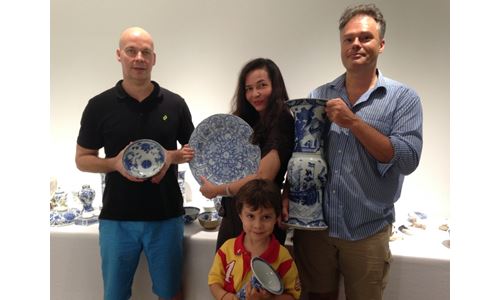 01/02/2014
Shipwrecked Secrets: Rediscovering the Ancient World along the Maritime Silk Route.
By Nikolai von Uexkull and Alex Ford, ocean explorers

In the warm tropical seas of South East Asia, there is a world of adventure, ancient shipwrecks, trade routes, and precious cultural finds. Nicolai von...