Feel at home with Axel Vervoordt!
ARTWORKS
Additional artworks will be shown on 27/01/2021 !
CONTACT
ABOUT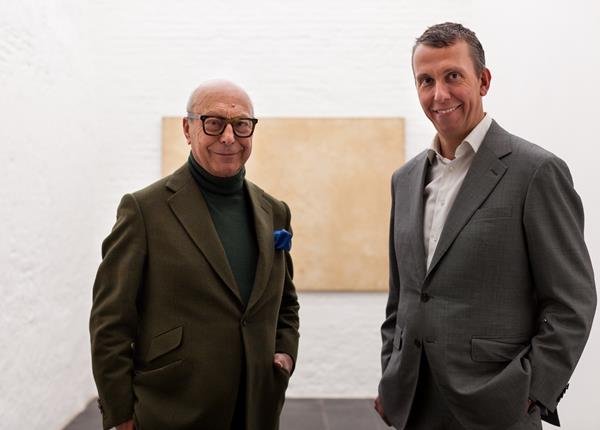 Since the late 1960s, Axel Vervoordt has built up a strong reputation as an antiques dealer and art connoisseur. His family-run business has grown into an international company that proposes art, antiques and interior design. The company has always been uncompromising when it comes to quality and beauty. It's industrial space Kanaal proposes a unique and very diverse collection of objects including archaeological pieces, 18th century furniture, 20th century design, ZERO and Gutai art. All objects, regardless of their origin or value, share a timeless, universal beauty and an intrinsic purity. The Axel Vervoordt Gallery, directed by Boris Vervoordt, offers a platform for established and emerging artists to show their work on an international level. The gallery focuses primarily on artists with a passion for the concept of the void and whose dedication to the creative process expresses a fascination with the meaning of the universe.
Founded : 1968
Specialisation
Contemporary art, archaeology, furniture, oriental art, 'objets d'art' dating from the 17th to the 20th century and design
Associations
ROCAD.be (Royal Chamber of Art dealers), S.N.A. Syndicat National des Antiquaires Négociants en Objets d'Art Tableaux anciens et modernes de France, C.I.N.O.A. Confédération Internationale des Négociants en Oeuvres d'Art, C.B.E.O.A Chambre Belge des Experts en Oeuvres d´Art , President of Inspiratum, Committee of the Royal Drawing School, Human Rights Watch, the Rubenianum Fund
Fairs
Expo Chicago, TEFAF Maastricht, TEFAF New York Spring, Art Brussels, Frieze Masters - London, West Bund Art & Design – Shanghai, Frieze New York, TEFAF New York Fall, Art Düsseldorf, Masterpiece London, The Armory Show - New York