ABOUT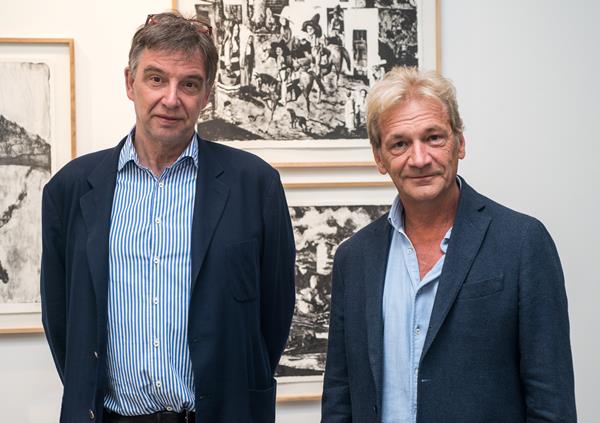 Based in Brussels and Paris, Huberty & Breyne Gallery has specialized in comics for almost 30 years. Alain Huberty and Marc Breyne offer collectors rigorously selected original works by the greatest masters of comic-strip art such as Hergé, Franquin, Martin, Hubinon and Tillieux. They also engage with contemporary comic-strip artists who experiment with new mediums and styles such as Philippe Geluck, François Avril, Jean-Claude Götting, Miles Hyman, Loustal and Anton Kannemeyer. In addition to their activity as gallery owners, Alain Huberty and Marc Breyne work as experts in Christie's Comic Strip Department. Throughout its existence, the gallery has put the art of the comic at the centre of its programme, organizing thematic exhibitions in both gallery spaces which draw in a range of artists and cover all aspects of the genre from traditional comics to contemporary art.
Founded : 1985
Associations
ROCAD.be (Royal Chamber of Art dealers), Chambre Belge des Experts en Bande Dessinée
Fairs
Art Paris, Art Elysées - Paris, Salon des Arts du XXe siècle Lausanne, Drawing Now Paris, AAF Hong Kong
CONTACT
Brussels

address
Place du Châtelain 33
BE-1050 Brussels

phone
+32 (0)2 893 90 30
+32 (0)478 31 92 82

Paris

address
91 Rue Saint-Honoré
FR-75001 Paris

phone
+33 (0)1 40 28 04 71

videos
Huberty & Breyne Gallery
Pour l'édition 2019 de la BRAFA, Huberty & Breyne Gallery met à l'honneur les oeuvres récentes de Philippe Geluck en lui consacrant un espace. Un second espace sera consacré à Midam, auteur de « Kid Paddle » et « Game Over ». Midam exposera ses planches originales ainsi que ses œuvres d'art réalisées pour l'exposition « New Blork City ».

Huberty & Breyne Gallery exposera également les grands classiques de la Bande-Dessinée avec pour figure de proue la couverture mythique du « Fantôme espagnol » de Willy Vandersteen.

François Avril, Jean-Claude Götting, Miles Hyman et Loustal montreront, enfin, de quelle manière la Bande Dessinée peut mener à d'autres horizons créatifs. Leurs planches originales côtoieront, pour ce-faire, des œuvres plus conceptuelles.