News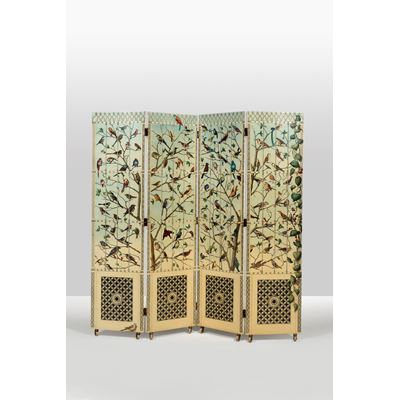 Gokelaere & Robinson is pleased to announce its participation to the 2023 edition of BRAFA. On this occasion, the gallery will present a selection of Italian and Brazilian historic furniture and lighting fixtures created by the greatest designers of the 20th century. Exceptional and timeless pieces of furniture from both hemispheres will coexist to offer an original panorama of the excellence of modern design in the 20th century. Illustration: Piero Fornasetti 1913-1988, Italy 'Uccelli' folding screen, 1953, Hand painted wood, brass, H 207 x W 200 x D 3 cm (81 1/2 x 78 3/4 x 1 1/8 in). Provenance: private collection, Turin.
Press release BRAFA 2023 - Gokelaere & Robinson

ABOUT
Gokelaere & Robinson is an international gallery devoted to the promotion of the great designers and architects from the 20th century. Born from Stanislas Gokelaere's and Céline Robinson's passion for design, their eponymous gallery has permanent exhibition spaces in Belgium (Brussels and Knokke) and in Paris (8th arrondissement). Gokelaere & Robinson take part in several major art fairs worldwide, presenting refined craftsmanship and timeless creations. Their robust exhibition programme includes mainly Scandinavian, American, French, Brazilian and Italian designers from the 1940s to the 1980s.
Founded : 2014
Specialisations
20th century design
Fairs
Design Miami, Design Miami/Basel, BRAFA - Brussels