access
Address: Avenue du Port 88, 1000 Brussels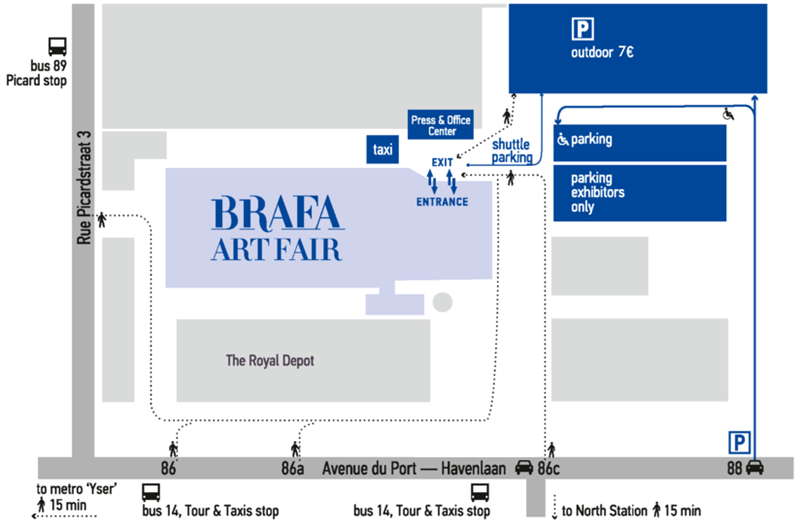 HOW TO GET TO BRAFA
Um zu buchen, gehen Sie zu
Brusselsairlines.com
INTERNATIONAL TRAIN
Thalys
Travel direct from Paris to Brussels in 1 hour 22 minutes and from Amsterdam and Cologne to Brussels in 1 hour 50 minutes. Arrival at Bruxelles-Midi/Brussel-Zuid station. Check for train times and tickets: www.thalys.com

Eurostar
Travel direct from London to Brussels in 2 hours. Arrival at Bruxelles-Midi/Brussel-Zuid station. Check for train times and tickets: www.eurostar.com

NATIONAL TRAIN
Belgian rail – SNCB/NMBS
Bruxelles-Nord/Brussel-Noord station is 15 minutes' walking distance from the Tour & Taxis site. Alternatively, take bus 14 towards 'UZ VUB' and get off at 'Tour & Taxis'. Plan your journey: www.belgiantrain.be

BY CAR
Plan your route : Google Map
Brafa Art Fair is only 10 minutes from the lively centre of Brussels and the famous Sablon district, 15 minutes from the best museums and 25 minutes from Brussels airport.
BY TAXI
Taxi verts
t. +32 (0)2 349 49 49

BY PUBLIC TRANSPORT
Plan your journey: S.T.I.B.

By Metro
line 2 & 6 Yser/Ijzer station - 15 minutes walk

By Tram
line 51 Sainctelette stop - 10 minutes walk

By Bus - STIB
line 14, 15 (after 8pm) Tour & Taxis stop
line 57, 88 Armateur stop
line 89 Picard stop

By Bus - De Lijn
line 129, 620 (after 8 pm) Ribaucourt stop
line 213, 214, 230, 231, Sainctelette stop - 10 minutes walk
232, 233, 240, 241, 242, 243, 245, 246, 250, 251, 260