ABOUT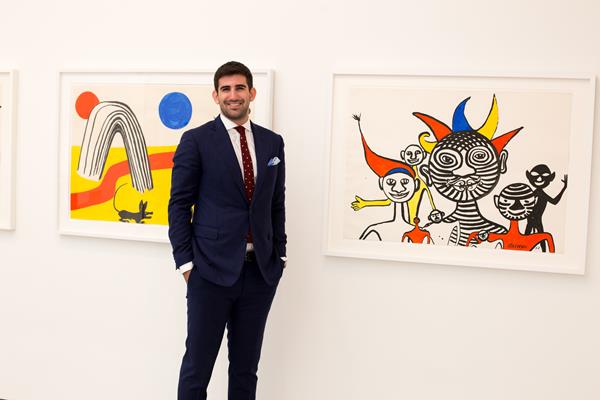 La Galerie Omer Tiroche se focalise sur l'art moderne, d'après-guerre et contemporain. La galerie a débuté ses activités en 2014 et a ouvert son espace permanent à Mayfair en février 2015. Depuis lors, la galerie a tenu régulièrement des expositions solo dont Alexander Calder, Victor Vasarely, Niki de Saint Phalle, Pablo Picasso, Franz West et Yayoi Kusama. En complément des expositions individuelles, la galerie accueille des expositions collectives autour de thèmes historiques spécifiques; dans 'Prière de Toucher - Hommage à Maeght', la galerie a reconstitué la troisième exposition officielle du mouvement surréaliste, organisée par Duchamp et Breton et présentée par la Galerie Maeght en 1947; 'Un Art Autre' a rassemblé une sélection d'œuvres d'artistes de la seconde Ecole de Paris d'après-guerre, des peintres abstraits, hommes et femmes. En plus de la galerie de Londres, la galerie Omer Tiroche dispose également d'un espace à but non lucratif à Jaffa, en Israël, qui permet aux artistes émergents, tant israéliens qu'internationaux, d'avoir carte blanche sur ce qu'ils exposent et comment ils choisissent de le présenter.
Founded : 2014
Associations
S.L.A.D. The Society of London Art Dealers
Fairs
Art Miami, Art stage Singapore, BRAFA - Brussels, Salon du Dessin - Paris, The Armory Show - New York
CONTACT
London

address
21 Conduit Street
UK- W1S 2XP London

phone
+44 (0)207 499 5143



videos
BRAFA 2020 - the Coup de Coeur of Professor Rachel Pownall
The international BRAFA Art Fair welcomes you to Tour & Taxis in Brussels from 26 January to 2 February 2020. In this video, Rachel Pownall presents us with her favorite artwork at the fair, a painting from the 1970s by the celebrated Chinese-French artist Zao Wou-Ki (1921–2013) in the booth of Omer Tiroche gallery.

Zao Wou-Ki studied calligraphy and painting before moving to Paris in 1948. His early exhibitions were met with praise from Miró and Picasso. Influenced by the work of artists such as Klee, Matisse and Cézanne, he began to develop a synthesis between Eastern calligraphy and European Art Informel. In 1957, Zao started to paint large-scale works with looser, more gestural brushstrokes. From the 1960s on, his paintings were focused around space and movement, often hovering between nature and abstraction. His expressionist take on Chinese painting transcended east and west with visions of the subconscious.

Rachel Pownall is Professor of Arts and Finance at the TIAS School for Business and Societyy at the Tilburg University and Director of the Executive Master in Cultural Leadership with the Royal Academy of Artsts. Her research interests and publications broadly cover the realm of understanding investor behaviour. She has a particular focus on art markets and assets with an emotional attachment.

The BRAFA Art Fair, created in 1956, is one of the world's oldest and most prestigious art fairs, famous for the high quality fine art, antiques, modern and contemporary art and design it offers. BRAFA takes place from 26 January through 2 February 2020 at Tour & Taxis in Brussels. www.brafa.art

Video produced by Matthieu Wolmark of Biapal for BRAFA
BRAFA Art Fair 2020: meet the exhibitors
The BRAFA Art Fair, created in 1956, is one of the world's oldest and most prestigious art fairs, famous for the high quality fine art, antiques, modern and contemporary art and design it offers.

133 leading galleries from 14 countries participate in the art fair, covering 20 specialities. The fair is known for its welcoming atmosphere, eclecticism and elegance. BRAFA's size means you can get a good impression of the fair in a few hours, leaving you lots of time to linger over your favourite pieces! In this video, dealers share their thoughts on the fair, giving peek behind the scenes.

This year, BRAFA stretches from 26 January through 2 February 2020. As the first major art event of the year, it is considered a reliable barometer of the art market.

For more information see www.brafa.art

Video by RGB Media.