Francis Maere Fine Arts - Ernest Van Hoorde - Works on paper – Ooidonk Gallery > 29.11.2020
---
13/10/2020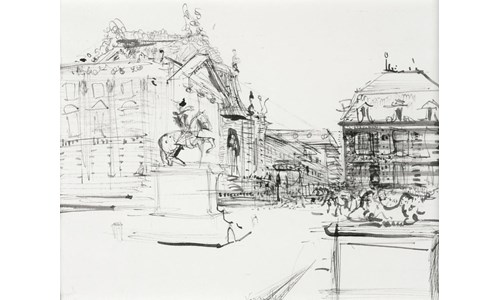 My first encounter with the work of Ernest Van Hoorde dates back ten years, to when his lovely wife showed me the contents of his studio in Ghent. I was impressed by the vibrant paintings, conventional in a way but at the same time rather daring and modern, especially in the use of colour and the smooth painting style. The subjects tended towards the traditional, such as landscapes, still lifes and genre scenes.
An extremely successful one-man show at the gallery lead to the idea of creating a catalogue raisonné. Between 2,000 and 3,000 drawings and etchings together with some 350 paintings were documented, photographed and labelled. The lifetime achievement of an artist who never reached the top and was effectively overtaken by the tsunami of abstract art in the sixties and seventies. As a teacher at the Academies in Ghent and Ronse, Van Hoorde must have been confronted with this duality – the battle between figuration and abstraction – on an almost daily basis. Later, he was an active member of the National and International Fine Arts Committees in Brussels and Paris, promoting art and contemporary movements in exhibitions throughout Europe.
In this next chapter, we are focusing on Van Hoorde's works on paper. Drawing lay at the heart of his artistic practice. He taught draughtsmanship to young artists and practiced it almost daily at the academy, whilst travelling and during his spare time. Never was a piece of paper overlooked: every event in his life was an occasion to draw.
"
Ce dessin m'a pris cinq minutes, mais j'ai mis soixante ans pour y arriver
" (
This drawing took me five minutes, but I put in sixty years to get to that point
), Renoir once said, and the same is true of Van Hoorde's own work. His drawings seem incredibly spontaneous, as sharp and direct as if they had been made in a few seconds, on the spot. Yet they betray a deeper underlying idea and technique. The works capture the pace of urban life, the calm and quietness of the countryside, the tense atmosphere of a full orchestral rehearsal or the conviviality of a masterclass at the academy, all in just a few smoothly drawn lines.
"
Si le dessin appartient au monde de l'esprit et la couleur à celui des sens, vous devez d'abord dessiner pour cultiver l'esprit
" (
If drawing is of the Spirit and colour of the Senses, you must draw first, to cultivate the spirit and to be able to lead colour into spiritual paths
), said Matisse, and Van Hoorde certainly believed that drawing was the foundation of all great art.
Almost thirty years after Ernest Van Hoorde's death, nothing could make us prouder than to share the work of this 'unknown' artist with a wider audience. The passage of time has created a certain distance, and allows us to view his oeuvre in a new context and free of all prejudices.
Opening hours
Saturday & Sunday: 14:00 - 18:00 or by appointment
Contact us (info@francismaerefinearts.be) to schedule an appointment as we are limiting and coordinating visitors. Masks will be worn of course.
Contact
Francis Maere Fine Arts - Ooidonk Gallery
Ooidonkdreef 12 - 9800 Bachte-Maria-Leerne (Deinze)
Mob. +32 475 69 23 05 - info@francismaerefinarts.be -
www.francismaerefinarts.be