Francis Maere Fine Arts Gallery - Pierre Clerk (1928°) - Paintings and Sculptures - 15.10 > 29.11.2020
---
13/10/2020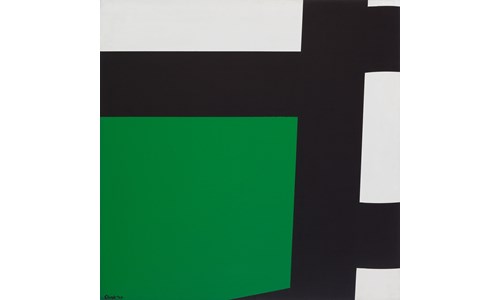 Andy Warhol once said "
Don't think about making art, just get it done. Let everyone else decide if it's good or bad, whether they love it or hate it. While they are deciding, make even more art
." Pierre Clerk is an artist with the same spirit. After a career of more than 70 years he still feels the urge to create, to design, to discover new techniques and above all, to enjoy live.
The artistic scene in New York in the late 1950s was slowly recovering from the Abstract Expressionist wave and reacted firmly against the violence and anxiety of Action Painting. Clement Greenberg curated the new movement of Post Painterly Abstraction (1964), favoring openness and clarity. Barnett Newman anticipated that movement together with Jasper Johns, Ellsworth Kelly, Kenneth Noland, Sam Francis and Sol Lewitt, among others. Soon everybody was talking about a new Color Field Painting or Lyrical Abstraction. The emphasis was now on flatness in contrast with the illusion of depth. Colour was freed from any objective context and became the subject in itself.
"
Geometry is in my blood
" says Pierre Clerk, referring to his architectural family lines, though he never aims for ordered geometry. Spontaneity and coincidence play an important role in his work. He never envisions a painting or a print before he starts. He never models a sculpture. It is in the same tradition of Henri Matisse's cut-outs of the late 40s: where the artist would cut painted sheets into forms of varying shapes and sizes which he then arranged into lively compositions, striking for their playful color and contrast, their exploitation of decorative strategies, and their economy of means.
Van Doesburg, Brancusi and the Neo-Plasticism of De Stijl and Mondrian influenced many artists in the 70s and 80s all searching for that pure abstraction and the reduction to the essentials of form and colour. Frank Stella's shaped canvases revolutionized abstract painting in the 1960s and his use of repetition in the black pin stripe paintings startled and chocked the artworld, unused to see monochromatic and repetitive images painted flat, with almost no inflexion.
Pierre Clerk is a child of his time, assimilating the different art movements for about 70 years now, but with a constant generosity, a childlike spontaneity and eagerness to learn. Some people tend to stay under the radar and it is one of our goals to give their art its rightful place. Honesty, truthfulness and consistency are by far the most beautiful values in art.
Opening hours
Tuesday – Friday: 10:30-12:30 & 14:00-18:00
Sunday: 10:30-13:00 or by appointment
Contact us to schedule an appointment so that you will be able to enjoy the show in all safety and tranquility. Everything will be arranged according to the Corona restrictions, please don't forget your mask and be so kind to register at the entrance.
Contact
Francis Maere Fine Arts Gallery – Hotel Falligan
Kouter 172, 1st floor - 9000 Gent
Phone +32 9 233 09 93 - Mob. +32 475 69 23 05 - info@francismaerefinarts.be –
www.francismaerefinarts.be