Brun Fine Art's Highlight of the Month - 'Bacchus' by Giuseppe Maria Mazza
---
13/10/2020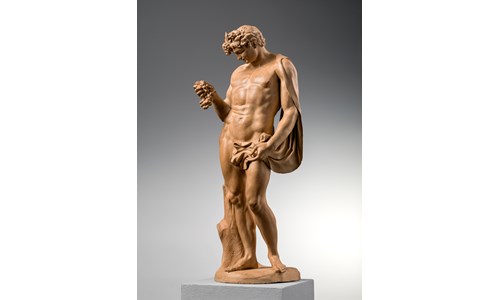 Brun Fine Art would like to present its first monthly highlight: 'Bacchus' by Giuseppe Maria Mazza.
Giuseppe Maria Mazza was born in Bologna in 1653. He is considered one of the leading Bolognese sculptors of the late 17th and early 18th centuries. Originally trained as a painter under Domenico Maria Canuti in Bologna, Mazza transferred the painterly quality of his early career into his later work as a sculptor.
Mazza truly excelled in the production of works in terracotta. Evident from 'Bacchus' is the artist's affinity with the great Bolognese figurative tradition. Not only does the figure relate to antique models and Michelangelo's prototype of the god, it strongly relates to painted works by the great Bolognese artists of his time, such as Guido Reni and the Carracci.
'Bacchus' is rendered by Mazza with extraordinary anatomical precision. The somewhat exaggerated muscular expression in the torso, accentuated by the contrapposto pose, clearly indicates Michelangelo's influence. With his right arm Bacchus lifts a bunch of juicy grapes at which his glance rests. He smiles, with beautifully modelled dimpled cheeks, at the fruit that brings inebriation and joy.
The expression on his chubby, smiling face is suggestive of the effects of wine: the swollen upper and lower eyelids, the circles under the eyes and the small wrinkles around them give him a simultaneously tired and amused look.
We hope you enjoy the opportunity to discover this work by Giuseppe Maria Mazza.
Contact
Brun Fine Art - 38 Old Bond Street, W1S 4QW, London.
Phone: +44 (0)73 78152823 - info@brunfineart.com -
www.brunfineart.com