Brun Fine Art – Online exhibition Oscar Piattella: Disintegration and Unity > 11.10.2020
---
07/08/2020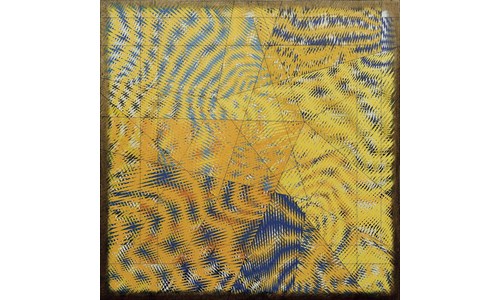 Brun Fine Art is pleased to present the new online exhibition Oscar Piattella: Disintegration and Unity.
The virtual exhibition and viewing room form an online companion to the physical exhibition that is currently on show at the Centro Arti Visive Pescheria in Pesaro, Italy. The show features over fifty works by the artist, tracing the developments in his oeuvre from the 1950's until 2020. Via the online viewing room, visitors are invited to walk through the virtual exhibition space, to read the digital exhibition catalogue and to browse through the works on show.
Oscar Piattella (Pesaro, 1932)
Oscar Piattella was born in Pesaro in 1932. Taking inspiration from artists such as Jean Dubuffet, Georges Mathieu, Alberto Burri and Edgardo Manucci, Piattella uses materials that are far removed from painterly tradition. He elaborates on an own abstract visual language that considers the visions of nature and the outcomes of pictorial thinking that are characteristic for his world.
While in Milan in the 1950's, Piattella entered a vibrant international artistic circle with artists such as Piero Dorazio, Enrico Castellani, Piero Cascella, Lucio Fontana and Tancredi Leonardi. The artist then participated in several great exhibitions. His work became widely acclaimed
and appears in public and private collections in Italy and abroad.
Disintegration and Unity
The earliest works in this exhibition are from the 1950's and focus on the wall as a theme.
Starting from the wall as a man-made reality, it recalls the wall's political functions and the use of the wall to suppress freedom in the twentieth century. To Piattella the wall was, however, also a doorway to an inner dimension, shaping the space and depths of the mind.
In the majority of works exhibited which date from the 21st century, Piattella shifted his eye to a more spiritual dimension as he began to imagine the construction of the universe. The artist found inspiration in the mathematical studies of the Renaissance period, looking at their refined ways of researching depth and space. The rigor with which Piattella designed his works down to the smallest detail, the use of mathematics and the emergence of "geometric phrasing", loosens and disappears with the placing of colour in the paintings. This results in a strong formal balance and chromatic harmony. The hypnotic chasing of vanishing points, lines, squares and waves in a harmonic alternation, allows the viewer to enter an authentic and dynamic liminal space of painting that was previously unexplored.
To the
Virtual exhibition
To the
Viewing room
To the
exhibition catalogue
Brun Fine Art - 38 Old Bond Street London W1S 4QW
info@brunfineart.com -
www.brunfineart.com