RÖBBIG München – Favourite piece of the month - Gold-mounted Cane Handle of Carved Heliotrope
---
06/07/2020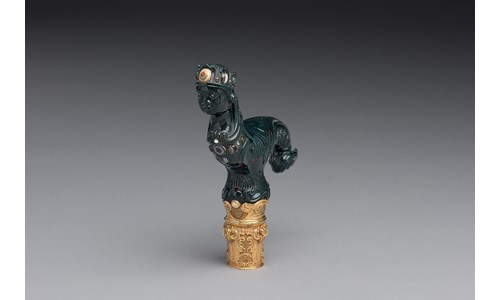 We do hope that you have gone well through the past eventful weeks and have stayed healthy.
Although the strict measures to fight Covid-19 are being gradually revoked in some areas, it is still not foreseeable how long they will exist and therefore we are facing uncertain times. All important art fairs and events in summer have been cancelled and whether shows will be allowed in autumn still remain uncertain.

We would be happy to welcome you in our new gallery rooms in Brienner Strasse 25, but the current travelling restrictions might make it difficult or even impossible for many of you to travel abroad.

Therefore we would like to inform you more often via newsletter and will begin with some interesting facts about us and the esteemed members of our team, who will present you their personal favourite object from our gallery on a regular basis.
Yours Sincerely
Alfredo Reyes & Michael Röbbig-Reyes
Gold-mounted Cane Handle of Carved Heliotrope
I have always had an especial fondness for delicate objets de vertu, in which inventiveness and craftsmanship culminate in the creation of virtuoso luxury objects.
Some time ago a very special object re-emerged from the older holdings at Röbbig that had me spell-bound from the very first moment I set eyes on it: a cane handle carved from heliotrope or bloodstone (a kind of jasper), in the shape of a siren, a mythological creature which in the applied arts is usually represented as half-woman and half-fish. The haptic and visual quality of the dark green polished stone with red inclusions is particularly appealing, and is perfectly complemented by the exquisitely chased gold mount featuring distinctive rocaille ornamentation.

Heliotrope was much prized in antiquity and was used in a variety of different ways in the Renaissance and Baroque, including dishes, goblets, vinaigrettes, nécessaires and snuffboxes. Around the turn of the twentieth century this appealing stone was to be rediscovered by Fabergé.

Demonstrating the rich mineral resources of Saxony, the applied decoration of variously banded agate cabochons follows the Saxon tradition of working indigenous materials to make beautifully crafted objects. The quality of the execution bears striking witness to the absolute perfection achieved in art of gemstone-cutting in Dresden during the eighteenth century by outstanding exponents such as Johann Christian Neuber (1736–1808).

From the early seventeenth century the cane had become an indispensable accessory of every male courtier. There were no limits to the variety of execution: cane handles of semi-precious stones, silver, gold, ivory and porcelain could be individually screwed onto a shaft of exotic wood. Like snuff-boxes, especially valuable examples encrusted with precious stones often served as diplomatic or personal gifts. Louis XIV (1638–1715) even used the jewelled cane as an object of ritualized court etiquette, investing it like a sceptre with a ceremonial character to mark out the monarch in court society. The drama and splendour of the French Sun King's court had a great fascination for Augustus the Strong (1670–1733), and canes or at least the handles became fixed elements of his famed garnitures of jewels.

It is also reported that the Saxon prime minister Count Heinrich von Brühl (1700–1763) commissioned a large book of watercolours recording his choice of attire each morning, which in addition to his clothing included a matching snuffbox and cane (see John Moore, A View of Society and Manners in France, Switzerland, and Germany with Anecdotes relating to some Eminent Characters (London, 1786), vol. 2, p. 273).

On an excursion to Amsterdam during this year's TEFAF my eye was caught in the Rijksmuseum's gold boxes section by a cane handle displaying a strong resemblance to our piece. Made in the shape of a sphinx and also carved from heliotrope and furnished with a gold mount, the Amsterdam handle is lavishly encrusted with diamonds. Despite its incomparably more opulent appearance, I would venture to assert that the quality of the stone carving does not quite match our example. Probably a diplomatic gift from Augustus III of Saxony (1696–1763), the handle in the Rijksmuseum entered the collection of the Russian tsarina Elizabeth (1709–1762) in St Petersburg, where it was preserved in the Hermitage until 1902 before eventually being sold to the Mannheimer Collection.

David Johannes Ranftl
David J. Ranftl studied History of Art, Bavarian History and the History of Byzantine Art as well as European Ethnology and Italian Literature and Language at the Ludwig Maximilian University of Munich from 2006 to 2013, concluding his studies with a master's thesis on the culture of fans at the Munich court between 1850 and 1914. Since 2014 he has worked for Röbbig München as an expert in furniture and the applied arts.
Röbbig München
Brienner Strasse 25 - 80333 Munich - Germany
Phone +49 89 299758 –
www.roebbig.de