Marc Heiremans 20th and 21st century applied arts - Venini Murano - The Next Generation > 16.08.2020
---
06/07/2020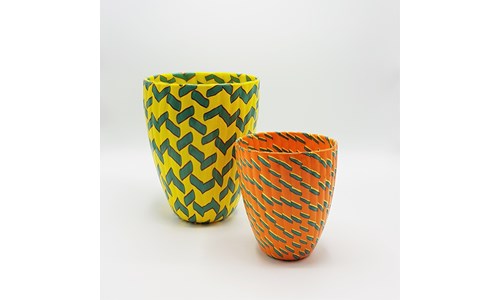 First, we sincerely hope all of you surpassed in good health the difficult past months.
To start off our summer period, the gallery will showcase an exhibition of a single owner collection.
Build around the entrance of the new generation of designers at the Venini glassworks in the late 1970s, early 1980s, this collection contains pieces which testify to the ongoing renewal -and continuous impeccable quality level- of this world-famous furnace on Murano during tumultuous years.
While successive designers, prior to the 1970s, have become well-known to the public, so far, this next generation stays in the shadows of their glorious predecessors.
International renowned glass artists such as Laura Diaz de Santillana, granddaughter of Paolo Venini together with Toots Zynsky brought a new vision.
Aside their renewing series -very iconic for the 1980s- the collection contains works by James Carpenter, Tapio Wirkkala and two important re-issued works by Carlo Scarpa.
The exhibition opens in our gallery on Thursday July 16, and will run until August 16, 2020, from Thursday to Sunday 12.00 - 18.00.
Discover the complete catalogue of available works here:
https://fr.calameo.com/read/0063448221194c452c424
Marc Heiremans 20th and 21st century applied arts
Graaf van Egmontstraat 1 - 2000 Antwerp - Belgium
+32 3 3 281 67 94 -
www.marcheiremans.com