SPONSOR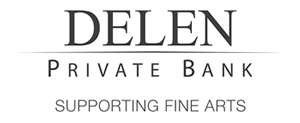 Since 2007, Delen Private Bank is partner and main sponsor of Brafa.

Brafa, whose Chairman is Harold t'Kint de Roodenbeke, and Delen Private Bank share a common ambition: achieving a high-quality fair.
The slogan underlining the harmonious cooperation between above-mentioned partners is 'Delen Private Bank,
Supporting Fine Arts', with which Delen Private Bank wants to emphasise its profound wish to support fine arts in order to maintain the cultural heritage for present and future generations.