Galerie Christophe Hioco – Object of the month - A monumental Gandhāran head
---
11/10/2021
Object of the Month
A monumental Gandhāran head

Dear friends, dear collectors,

At first, this face surprised us, and then it impressed us a lot. First of all because of its size: a stucco sculpture of such dimensions (36 cm wide), that is absolutely remarkable! We then enjoyed looking at it more closely and admired the exceptional quality of the rendering of its features, of the modelling of its forms, all leading to a stunning expressiveness.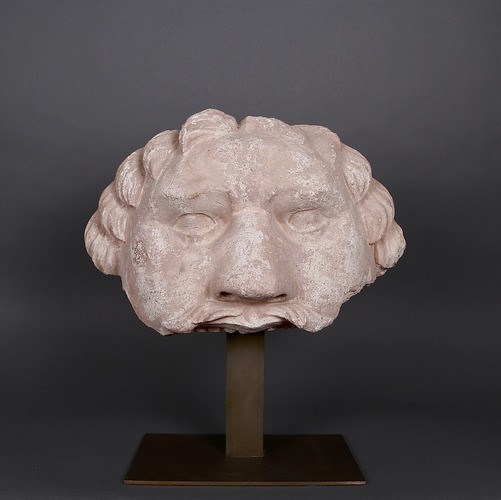 What is it about?
This head is most likely that of a door guardian (Dvārapāla) whose function was to protect an entrance to a monastery. Made of stucco that was once entirely polychrome, it is a formidable example of the use of this material in Gandhāra, between the 3rd and 5th centuries.

Discover this Guardian:
Many images and our explanations can be downloaded by clicking here.

A short video, purely visual, to share our enthusiasm:
Particularly expressive, you have to look closely at this face and appreciate its very sensitive modelling!
Click here to watch the video.

Please do not hesitate to contact us if you need any further information: info@galeriehioco.com or +33 1 53 30 09 65. All our research, all our notices, all our prices are also freely available on our website. You can see photos of the pieces, zoom in to see all the details, and read their detailed descriptions. All our catalogs are also available for free download.
You can also follow us on Instagram (@galerie_hioco_asian_art and @plaisirdesthete_bygaleriehioco).

Best Regards,

Christophe & Gildas Hioco
Anne-Laure Bodin
Contact:
Galerie Christophe Hioco
7 rue de Phalsbourg – F-75017 Paris
Tel. +33 (0) 1 53 30 09 65 - info@galeriehioco.com -
www.galeriehioco.com