Huberty & Breyne Gallery – Summer exhibitions : François AVRIL (Paris) & Milo MANARA (Brussels) - > 28.08.2021
---
05/07/2021
In Paris: Francois AVRIL - Bretagne

The last time that François Avril exhibited in Paris was in 2017. Until 28 August 2021, Avril will be back at the Huberty & Breyne Gallery with a selection of works - pencil and pen & ink drawings, works on canvas, lithographs and tree sculptures - that have never been shown in the capital.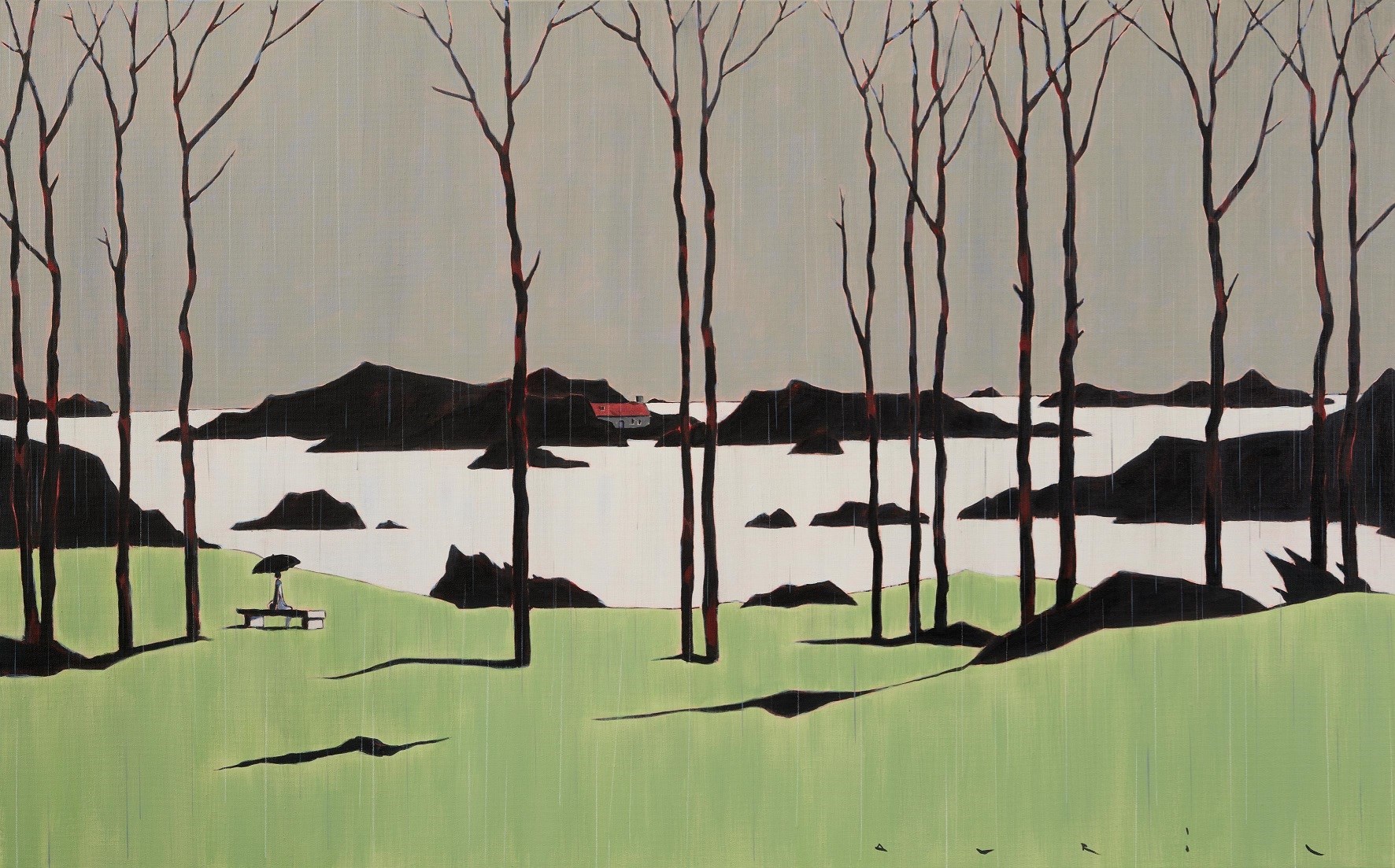 François Avril
Légère averse
, 2021
Acrylic on canvas, 81 x 130 cm ( 31,89 x 51,18 in )
Signed at bottom right
Since March 2020, the artist's movements have been confined to Brittany. Avril has been immersing himself in all the wild grandeur and moody beauty of the Breton landscape, exploring its wide-open spaces - its marshes and moorlands, those rugged coastlines that seem to go on for ever ("Penn ar Bed", head of the world, the Bretons call "Finistère", the end of the earth according to the French). François Avril has been to the big cities - to Paris and New York and Tokyo - and now he has settled for Brittany.
In this new exhibition, Avril invites viewers to discover, or rediscover, for themselves this region so dear to his heart. With great subtlety and elegance, the marks of his pencil or pen and the strokes of his brush compose a series of imaginary landscapes that are reduced to essentials and stripped of "chatter": expanses of sand and sea, the odd scattering of rocks, cliffs, a lighthouse, kelp beds... These works suggest a back story and evoke memories of a world of simple pleasures.
Click here to view the virtual tour.
Contact - Huberty & Breyne
36 avenue Matignon – F-75008 Paris - Tel. +33 (0)1 40 28 04 71
contact@hubertybreyne.com –
www.hubertybreyne.com
In Brussels: Milo MANARA - Recent works
The Huberty & Breyne Gallery is delighted to be hosting an exhibition in Brussels dedicated to the most recent works by Milo Manara.
Visitors to the exhibition are invited to follow the artist as he engages with the experience of lockdown. The works on display include drawings Manara produced over the last year, during those periods of lockdown, many of them paying homage to the sectors most seriously impacted by the crisis: health care professionals, local businesses, maintenance workers, to mention just a few.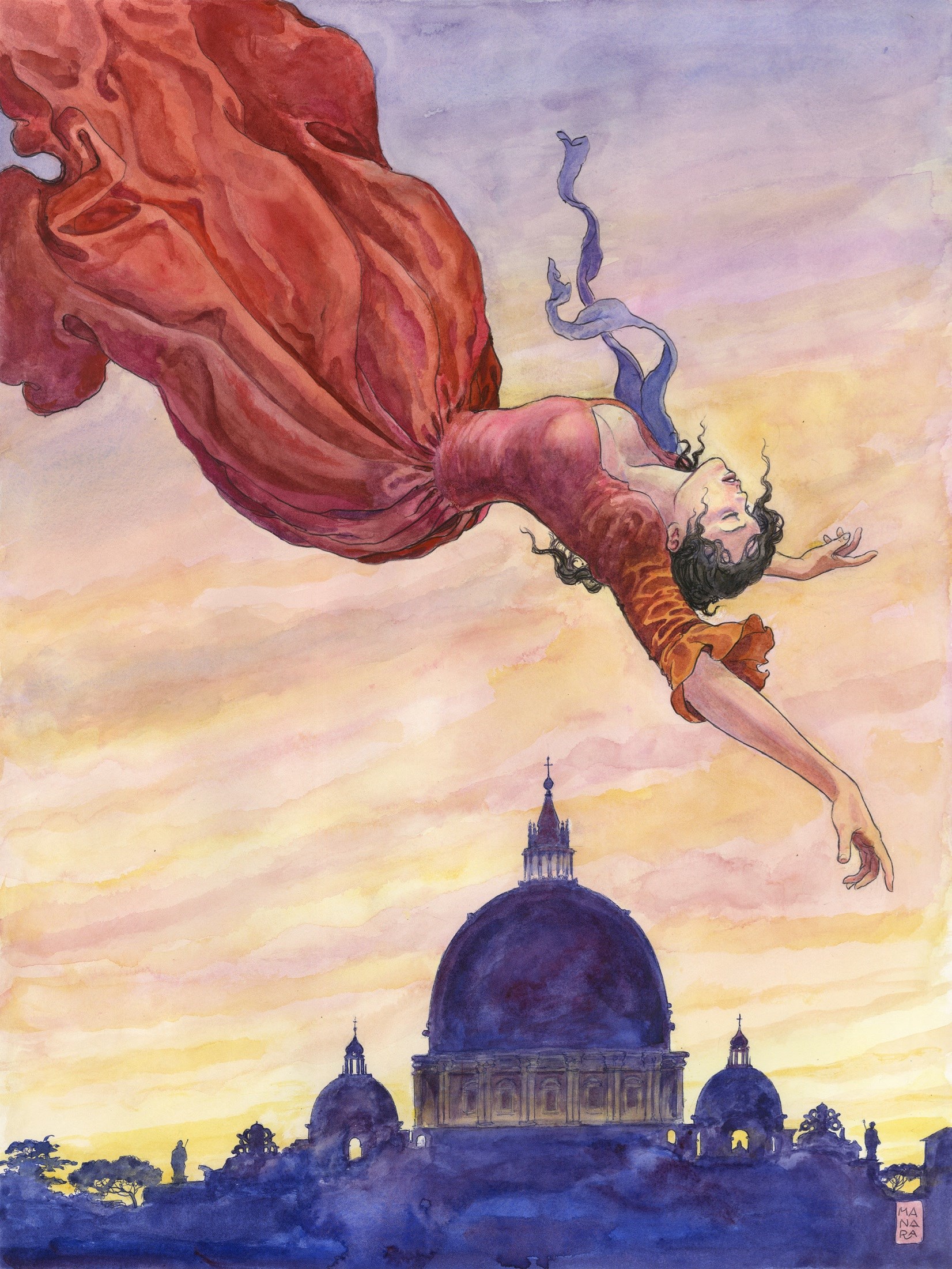 Milo Manara
La Tosca
Mixed technique on paper, 61 x 46 cm ( 24,02 x 18,11 in )
Signed bottom right
"I live in the country and consequently I coped rather well with the first lockdown. I was able to get about and, most importantly, I was able to carry on drawing. I was well aware that I was luckier than most other people. Being lucky didn't stop me feeling a sense of solidarity with those who were suffering the most and who were dealing with the disease at first hand."
Milo Manara is particularly drawn to the arts, and to the people involved in that world, whether he is depicting film technicians or a female drummer, creating an allegorical party scene or reproducing masterpieces by the great names in art history.
The Italian publishing company Feltrinelli has put together an initial series of twenty-five drawings and published them as a portfolio, with all profits going to support three hospitals in Italy.
"This watercolour series includes twenty-five drawings. They are 'thought-drawings'. What they are saying is: 'I am thinking about you and I want to say thank you.' We posted a new drawing on social media every other day. I was soon getting messages of thanks from all over the world. From doctors and nurses'"
All the drawings were later sold at auction by the Huberty & Breyne Gallery, with proceeds going to the French, Belgian and Italian Civil Protection associations.
"I think we made about 70,000 euros in total, and all that money was redistributed. It's a great privilege for someone who knows a bit about drawing to be able to keep making a contribution through his ideas and to receive expressions of gratitude. And I've received a great many, including from Japan and China. I've kept every single one!"
The exhibition will also feature a second series of drawings, all of them published on the artist's Facebook page. And connoisseurs of Milo Manara's work will be delighted to rediscover some of his earlier material, including illustrations from the enormously successful Le Parfum de l'invisible, which appeared in 1986 and 1995.
Click here to view the virtual tour.
Contact - Huberty & Breyne
33 place du Châtelain - 1050 Bruxelles – Tel. +32 (0)2 893 90 30
contact@hubertybreyne.com –
www.hubertybreyne.com