Galerie Hioco - Object of the Month - A Pāla Buddha full of majesty
---
28/06/2021
Here is a piece in which all the strength and harmony of Pāla art join together. We love the polished and waxed character of the body, contrasting with the lighter, rougher stone around it. What strikes us above all and what makes this Buddha so unique is the way he seems to emerge from the stone: this fragmentary state thus gives all its originality to a sculpture that is above all a magnificent and rare example of Pāla statuary.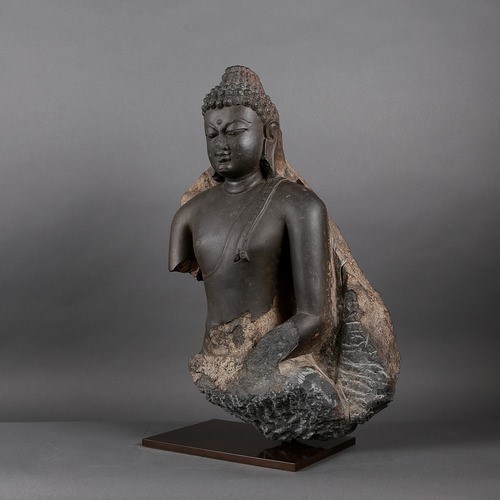 What is it about?
A representation of Buddha Śākyamuni, the historical Buddha, characteristic of the medieval art of Northeast India. Dating from the early Pāla period, 9th-10th century, it is of significant size: 43 cm high (or 16 ⅞ in)!
Discover this Buddha : Many visuals and our explanations can be downloaded by clicking
here
.
A video to view
here
: Clément Gaësler shows you all the specificities of this superb sculpture.
Christophe & Gildas Hioco
Anne-Laure Bodin
+33 (0) 1 53 30 09 65 I
info@galeriehioco.com
I
www.galeriehioco.com
By appointment
7 rue de Phalsbourg
75017 Paris
The Gallery participes to the following event: Brussels Antiques and Fine Arts fair – BRAFA, 23 - 30 January 2022