Rosenberg & Co. - A Future We Begin to Feel. Women Artists 1921-1971 - Peggy Guggenheim's "31 Women"
---
18/06/2021
Our current exhibition A Future We Begin to Feel: Women Artists 1921–1971 (05.06 > 20.08.2021) highlights modernist women artists working from Cubism to Abstract Expressionism. The exhibition surveys the innovations and varying institutional access of artists such Marie Laurencin, Isabel Bishop, Eileen Agar, and Natalia Goncharova, as well as Abstract Expressionist artists such as Charlotte Park, Perle Fine, and Alma Thomas.
This week, we examine one of the foundational precedents for exhibitions of women artists: Peggy Guggenheim's Exhibition by 31 Women, held at her Art of This Century Gallery in 1943.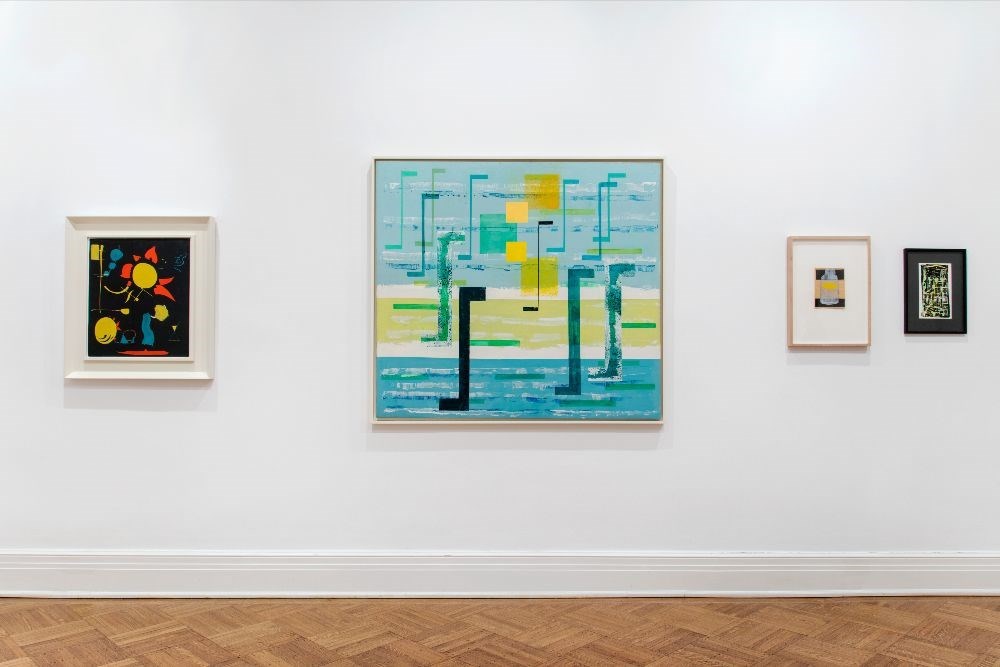 Installation view, left to right: Perle Fine, Irene Rice-Pereira, Sonja Sekula.



Guggenheim in Art of this Century.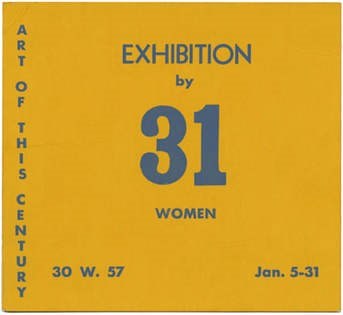 Exhibition by 31 Women was the first of two all-women shows that Guggenheim hosted, and was juried (a practice common in Europe, but unusual in the United States) by a panel that included Guggenheim, Max Ernst, André Breton, and Marcel Duchamp. Among the artists chosen were Irene Rice-Pereira, Sonja Sekula, and Esphyr Slobodkina. Perle Fine, whose work is also pictured above, was not included in Exhibition by 31 Women, but participated in the gallery's Spring Salon for Young Artists three months later.

The New York Times review of 31 Women stated that "nearly everything belongs to realms of surrealism and fantasy, although a few of the items are plain abstractions." Most reviews derided both the the sex of the artists and their abstract or surrealist art. Slobodkina, Rice-Pereira, and Sekula were not among those identified by name in the reviews, as writers primarily noted the already-famous: Meret Oppenheim, Gypsy Rose Lee, Frida Kahlo, Louise Nevelson. (Georgia O'Keeffe was invited by the jury to participate but declined, writing that she did not want to exhibit as a "woman artist.")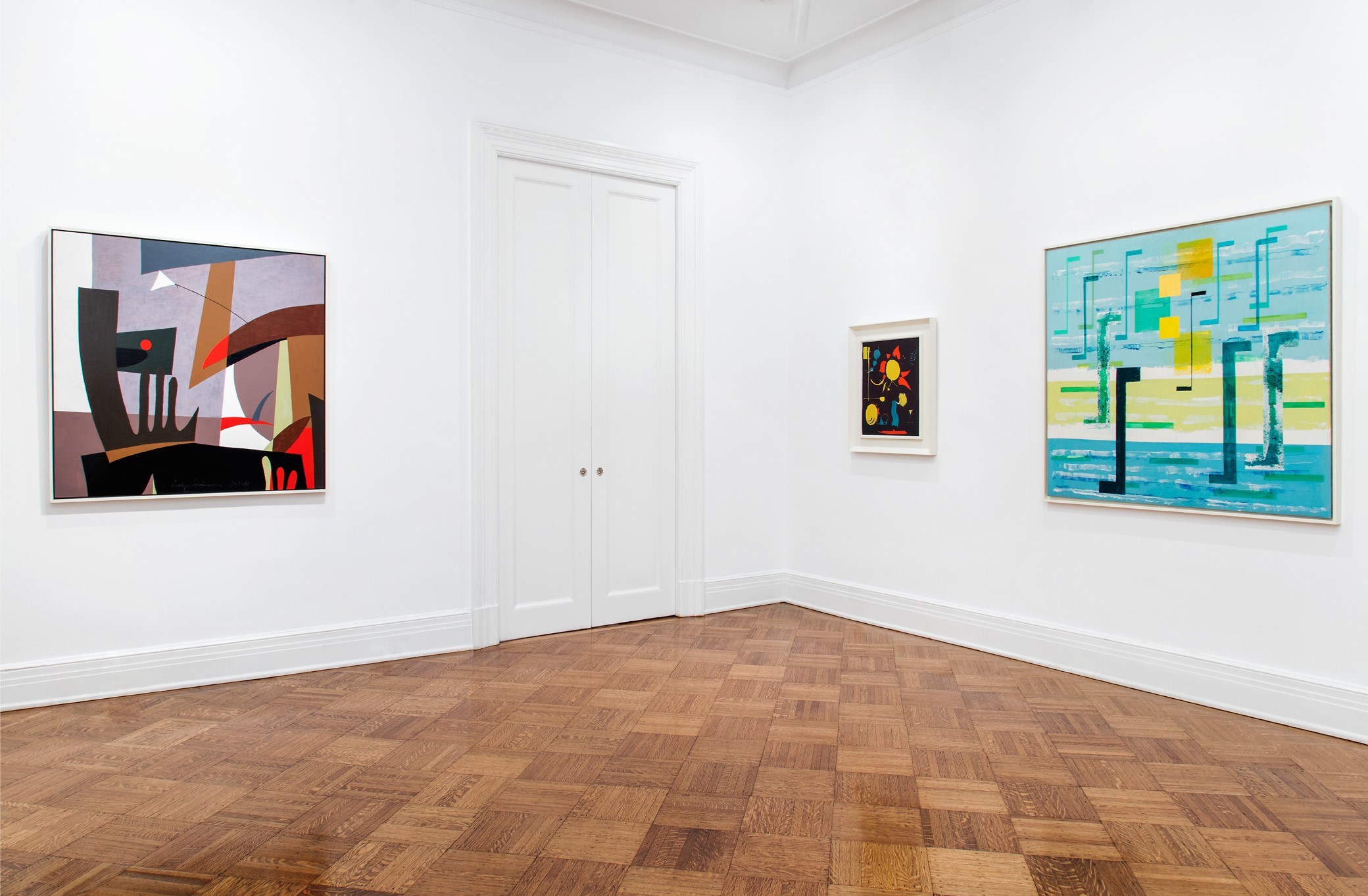 Installation view, left to right: Esphyr Slobodkina, Perle Fine, Irene Rice-Pereira.

Slobodkina, Fine, Rice-Pereira, and Sekula were each working in abstraction by the time they showed their work at Art of the This Century. Slobodkina was a forerunner of hard-edged painting, and her untitled work included in A Future We Begin to Feel was conceived in 1943, the same year as her participation in 31 Women.

Also in 1943, Fine received a grant from the Guggenheim Foundation through Hilla Rebay, and throughout the 1940s she experimented rigorously. Study for Fireworks (1945, illustrated above) is exemplary of her pursuit of non-objectivity and the pure expression of color and line. Influenced by geometric abstraction and the Neo-Plasticism of Piet Mondrian, whom she met in New York, Study for Fireworks uses primary colors but subverts the compositional rigidity of Mondrian and his adherents.

By the 1940s, Rice-Pereira was already known for her geometric and rectilinear paintings. A prolific writer as well as a painter, Rice-Pereira wrote extensively about abstraction, optics, time, and space. Her painting illustrated above, Spirit of Mercurius, was likely created in the late 1950s, and exemplifies her mature body of work.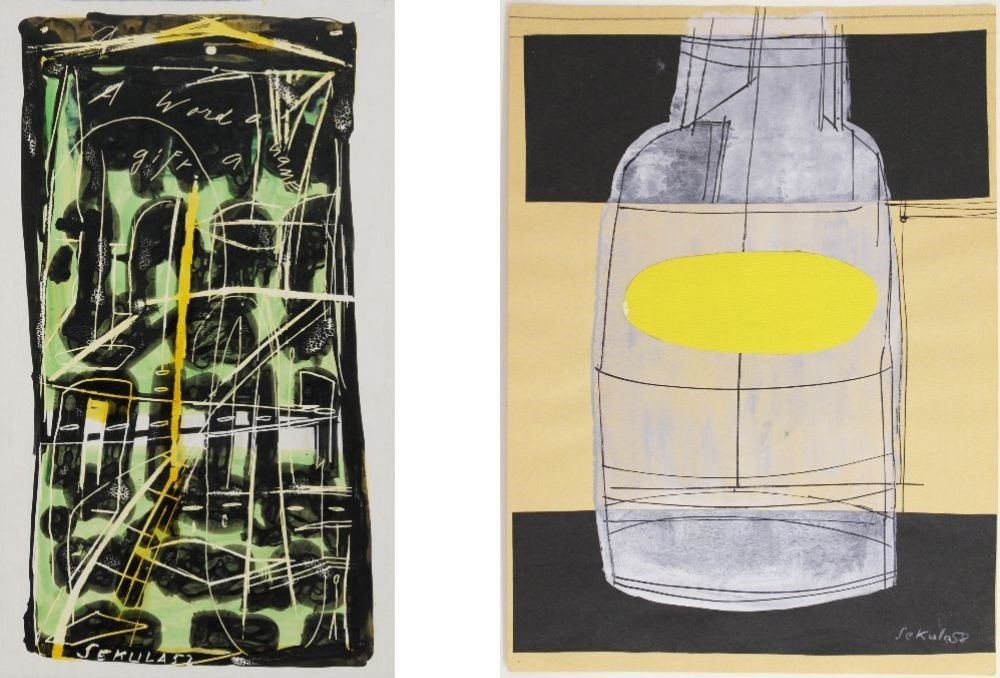 Sonja Sekula, A Word, A Name, A Gift, 1952 // Untitled (Bottle), 1958

More than a decade younger than the other artists, Sekula only began studying at the Art Students League in 1941, and became involved with Breton's circle of Surrealists around 1942. She favored working in small formats, usually on paper, and though Sekula was associated with the Surrealists and later the Abstract Expressionists, her work doesn't fit neatly into any movement of the period. The scale, intimacy, and diversity of her oeuvre now distinguish Sekula's career, but during her lifetime these qualities were often seen as a liability.

Peggy Guggenheim introduced the European avant-garde to American audiences, but also championed an emerging avant-garde within New York. Exhibitions such as 31 Women brought attention to artists that may not have received it otherwise; through the imperfect form of an all-women exhibition, the artists shown here gained both exposure for their work and to one another.

Rosenberg & Co. is delighted to celebrate these artists today. As artists, galleries, and museums continue to remake aesthetic tradition, we are excited to contribute to a more feminist, nuanced representation of modernist history.
To see more works in our current exhibition, click here.
Contact
19 East 66th Street
New York, NY 10065
T: (212) 202-3270
E: info@rosenbergco.com I
www.rosenbergco.com
The gallery is open Monday–Saturday, 10am–6pm.
Please email kadie@rosenbergco.com if you would like to schedule a private viewing.