Galerie AB - John Ferren (1905-1970), pionnier de l'abstraction américaine – Œuvres de 1933 à 1935 - 02.06 > 26.06.2021
---
01/06/2021

Découvrez l'oeuvre d'un des premiers artistes abstraits de l'avant-garde américaine à avoir développé son oeuvre à Paris à partir de 1929. Californien, issu de l'Ecole d'Art de San Francisco, il regarde Matisse et suit les cours de l'Académie Ranson et de la Grande Chaumière. Fort de son expérience parisienne, il rentre à New York en 1938, se passionne pour le bouddhisme Zen et fonde The Club, avec un groupe d'artistes au coeur de l'expressionnisme abstrait. Ferren appelle l'art le «grand dénominateur commun entre la connaissance et la perspicacité», et a déclaré que nous devions « explorer les forces intuitives – spirituelles, mentales, sociales ou psychologiques – de la vie ». Un artiste passionnant dont la galerie présente dix oeuvres aussi rares qu'exceptionnelles.

Composition abstraite
Daté 1933, aAquarelle et encre sur papier
Signé en bas à droite, 13.5 x 17.5 cm

Who is John Ferren ?

John Ferren is one of the first abstract artists of the American avant-garde to develop his artistic work in Paris. Originally from California, Ferren began with a career as a sculptor and in 1924 attended the San Francisco School of Art. In 1929, he decided to come to Europe, first stopping in New York where he saw the Gallatin Collection.

He then went to France, Italy and Munich where he met Hans Hofmann and Vaclav Vytlacil. There he discovered an exhibition by Henri Matisse, an experience that will help to move his work from sculpture to painting. In Paris Ferren studies at the Sorbonne at the Académie Ranson and at the Académie de la Grande Chaumière.

After this first year in Europe, he returned to California. In 1931, he returned again to Paris, where he stayed there for seven years. Surrounded by the Parisian artistic avant-garde, Ferren will develop his own language. The newspapers of the time speak of him as a great artist similar to Hofmann, Kandinsky or Mondrian.

Although Gallatin and Morris were the first Americans to purchase his paintings, Ferren partnered with members of the Abstraction[1]Creation group rather than the American expat community. He married the daughter of a Spanish artist, Manuel Ortiz de Zarate. Thanks to this union, he meets the circle of Spanish Parisian painters which included Picasso, Miró and Torres-Garcia. With Jean Hélion, Ferren wrote manifestos against surrealism, although he remained friends with Max Ernst and André Breton, and illustrated several books by surrealist poets. In Paris, he met Pierre Matisse who, in 1936, organized an exhibition for him in his New York gallery.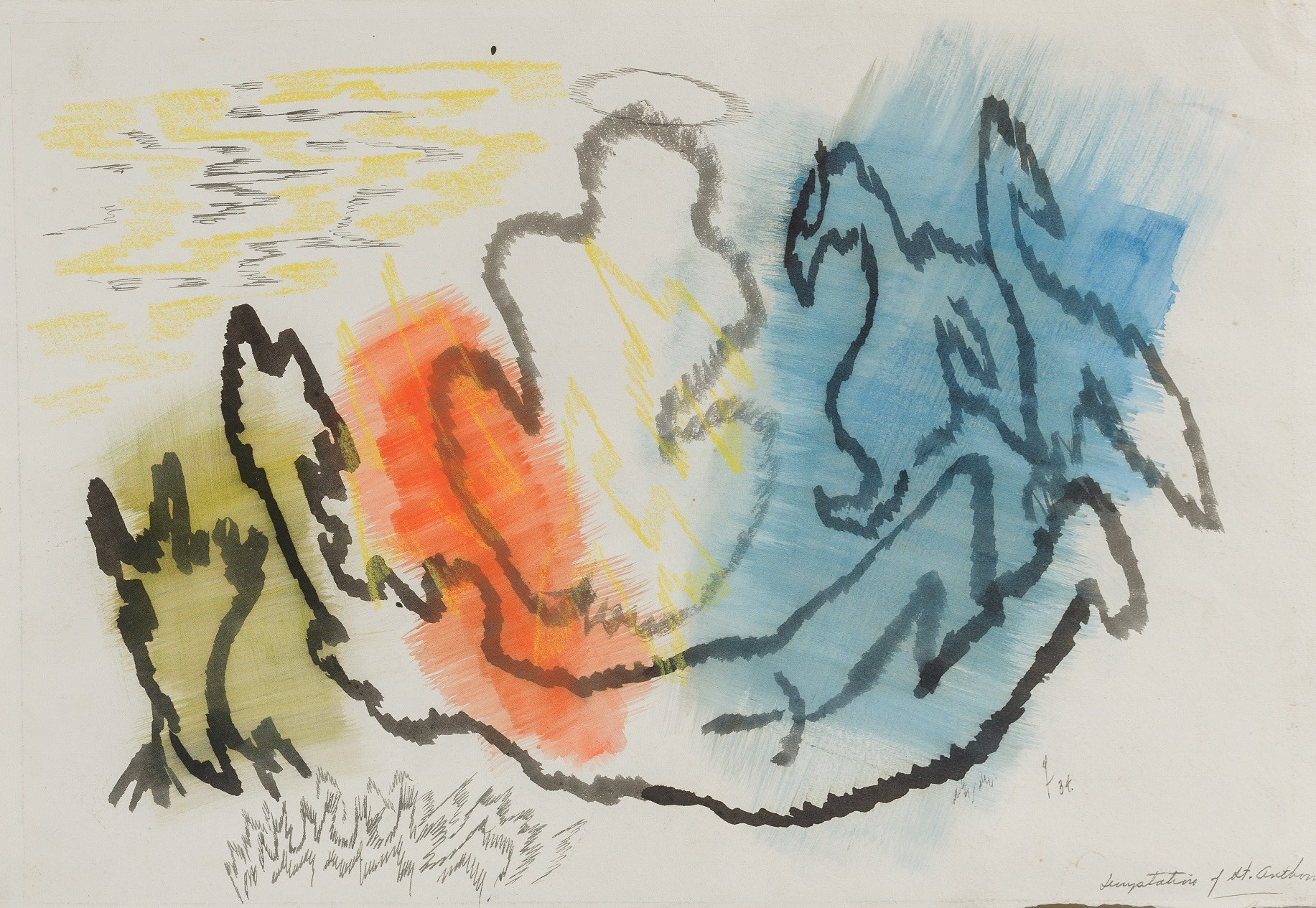 Composition abstraite
Daté 1933, aquarelle et encre sur papier
Signé en bas à droite, 23 x 33 cm

After his divorce in 1938, Ferren returned to the United States. At this time, he reintroduced the figure in his paintings without giving up abstraction, and after the war he turned to abstract expressionism.

Moving from geometric abstraction to the academic figure, to the still lifes he made after the war, and finally to the freely painted expressionist work of his later years, Ferren sought a way to express his artistic truth.

Throughout his life he viewed painting as a way to research the reality behind appearance. His early appreciation of Kandinsky and his fascination with Zen dating from his youth helped define how he thought about his work. He called art the "great common denominator between knowledge and insight," and said that in art one has to explore the intuitive forces - spiritual, mental, social or psychological - of life.

Ferren was an early member of the Club, an organization of abstract expressionists, and in 1955 served as its president. He has taught at Brooklyn Museum School, Cooper Union, and Queens College.

The Stable Gallery in New York held a one-man show of his work each year from 1954 to 1958. The artist participated in the Carnegie International, Pittsburgh, in 1955. In 1961 Ferren was included in the Guggenheim Museum's Abstract Expressionists and Imagists. He was the first recipient of an American Specialists Abroad Grant awarded by the United States State Department; this allowed him to spend 1963-64 lecturing on contemporary American art in Beirut and elsewhere in the Middle East, Pakistan and India. Ferren died on July 24, 1970, in East Hampton, New York.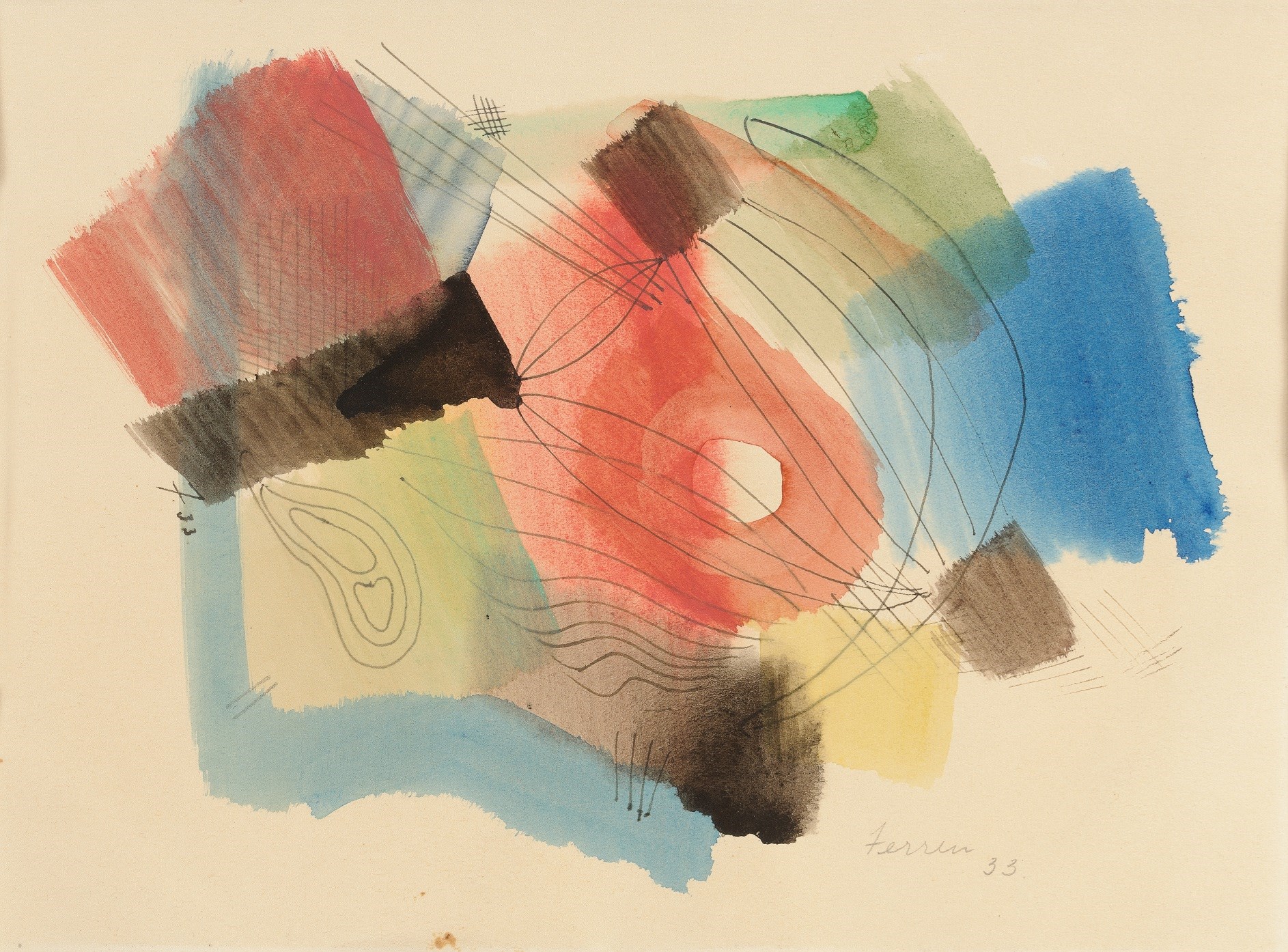 Composition abstraite
Daté 1933, aquarelle, stylo et encre sur papier
Signé en bas à droite, 18 x 26.5 cm
Cliquez ici
pour parcourir le
catalogue
.
Contact :
Galerie AB
14, rue de la Grange Batelière – FR-75009 Paris
Tel. +33(0)1 45 23 41 16 - Mobile +33(0)6 14 42 96 83 - galerieab@gmail.com -
www.galerieab.fr