DIE GALERIE - Herbert Mehler | Growth - Body – Space – Exhibitions at the Goethe University and at the gallery
---
25/05/2021
"It is important to me that everything – from the idea to the finished sculpture – remains in my hand.
Only then can I take the steel to its limits, respectfully accepting the realities of the technical and artisanal possibilities. "
Herbert Mehler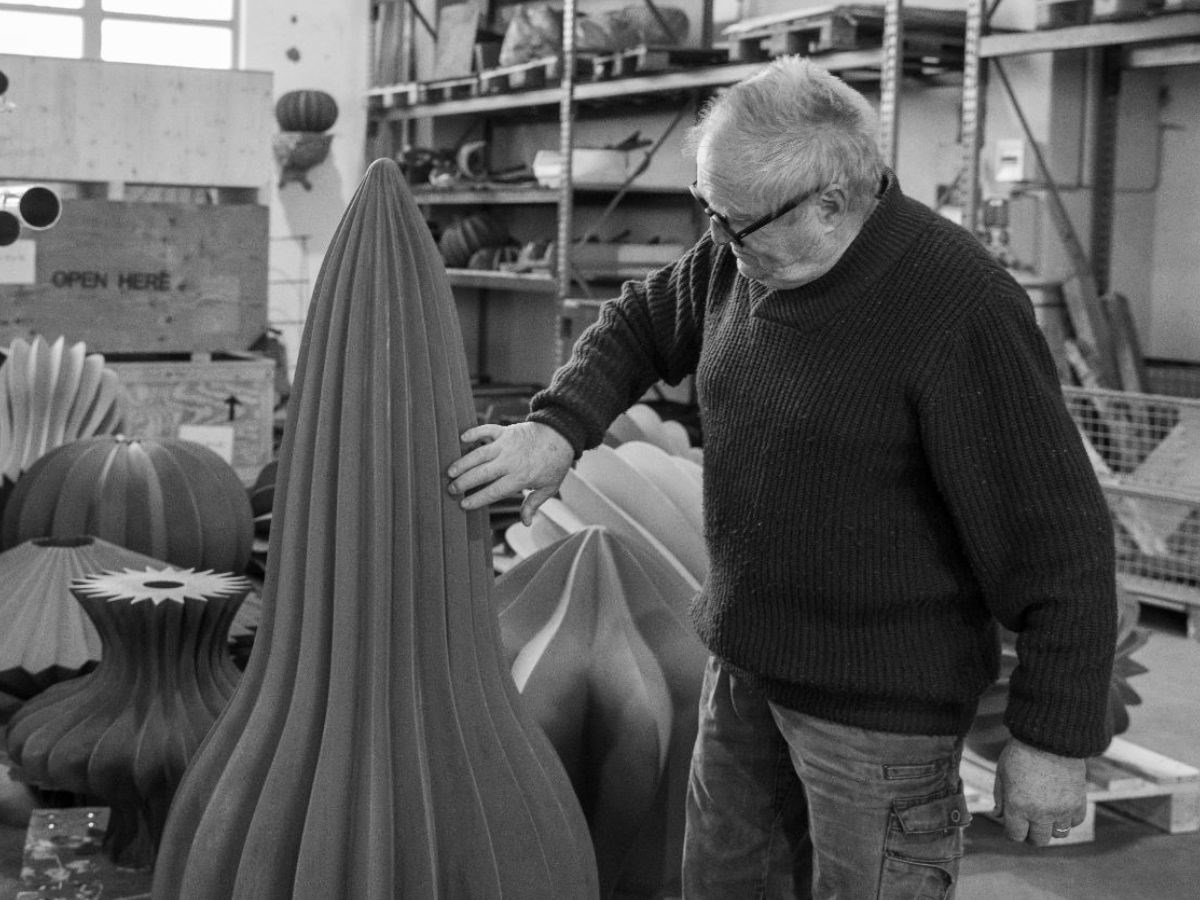 Dear friends of DIE GALERIE,

We currently present Herbert Mehler's works on the Westend Campus of the Goethe University Frankfurt and, from June 9, 2021, in the premises of DIE GALERIE as well.

Now, who is Herbert Mehler?

Herbert Mehler was born in Steinau near Fulda in 1949. His father, Franz Mehler, was a master wood sculptor and carved crucifixes. From an early age, Herbert Mehler grew up in an environment dominated by art and knew from the beginning that he wanted to become an artist. He was merely 15 when he began his first apprenticeship in his father's workshop. Despite this first training, he never felt attracted to wood as a creative material. He perceived it – and still does today – as a "dead matter", which is predestined for decay. While wood rots quickly and is transient, metal survives this limit set by nature through its immanent strength and durability.

After studying painting at the Academy of Fine Arts in Nuremberg, Herbert Mehler decided in 1985 to devote his artistic career to sculpture. His main source of inspiration during these years was the artist Joseph Beuys, by whose ideas and handling of materials he was deeply fascinated. During this initial phase he worked with natural materials such as branches, twigs and wool; later still with sheet copper and liquid paraffin. After this early stage, however, Herbert Mehler abandoned both natural materials and sheet copper and at the beginning of the 1990s introduced the element of iron into his work.

About 10 years later, another stylistic shift occurred and with the Kavex series he initiated a brand new creative phase that continues to this day. Kavex is an artificial word composed of the last syllable of the terms "konKAV" (lit. concave) and "konvEX" (lit. convex). The sculptures created during this period are towering, complex structures made of Corten steel, composed of V-shaped lamellas arranged symmetrically around an axis. The regular alignment of these steel segments results in sculptural bodies of partly geometric, partly organic shape, which simultaneously evoke load-bearing architectural elements as well as plant-like structures.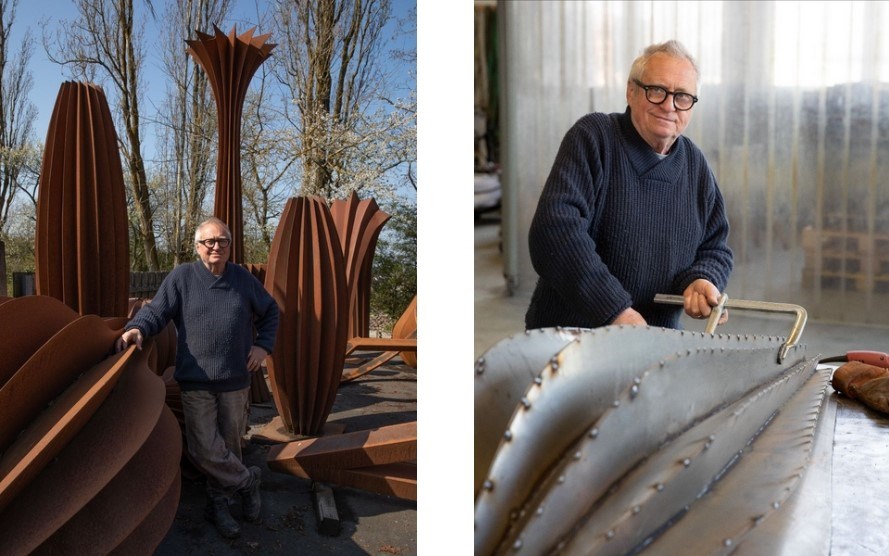 Additionally, we are also extending our current exhibition dedicated to Volker Stelzmann until June 30, 2021, (
take 3D tour here
) thus bringing you a compelling double exhibition of Stelzmann's figurative paintings alongside Mehler's abstracted metal creations.
Click here for more information
– stay tuned !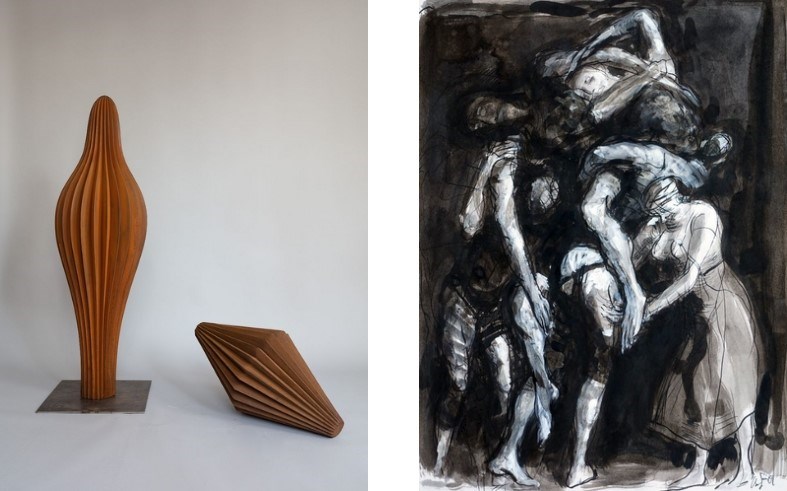 Pïcture left
:
Herbert Mehler
,
Autoritratto piccolo
(left), 2008, cortel steel, 150 x 48 x 48 cm /
Stella della serra
(right), 2006, corten steel, 84 x 40 x 40 cm
Pïcture right
:
Volker Stelzmann
,
Deposizione
, 2001, Indian ink and feather, washed, on paper, 40 x 29 cm
Click here
to disvover our exhibition at the gallery
in 3D
.
Contact
DIE GALERIE
Grüneburgweg 123 – DE- 60323 Frankfurt am Main (Germany)
Tel +49 6997 14 71 0 - info@die-galerie.com -
www.die-galerie.com
Press release on the exhibition "Herbert Mehler | Growth - Body - Space" (Goethe University) - 15.05.2021 > 24.04.2022
Goethe University holds a prominent position in the cultural life of the city of Frankfurt am Main. Founded in 1914 as a
Bürgeruniversität
("citizens' university") and established in 2008 as an autonomous foundation university, it understands itself as a comprehensive place for research and teaching, open discussion, innovative thinking and future-oriented conduct with social responsibility. Conveying this ambition to the outside world in a visible manner is currently rather challenging in the light of the pandemic-related restrictions, for all the events and podiums planned for this purpose had to be cancelled. Because of the Coronavirus, the art, culture and exhibition scene throughout Germany had to be drastically reduced. This led to the idea of using a sculpture exhibition as a "countermeasure" to visually represent the different aspects and principles of academic life in an impactful way. "
In response to Corona, we are sending a signal of hope to Frankfurt's urban society
", declares University President Prof. Dr. Enrico Schleiff.
Immersed in the spectacular landscape of the extensive park grounds around the Poelzig Building, the Goethe University Frankfurt, in cooperation with the neighbouring art gallery
DIE GALERIE
, presents the open-air exhibition
Herbert Mehler | Growth - Body - Space
. Dialogue with Goethe University. With this exhibition, a total of 18 monumental sculptures by contemporary German sculptor
Herbert Mehler
will be presented on the Westend campus from May 15, 2021 to April 24, 2022. Born in Steinau in 1949, the artist enjoys a solid reputation both in German-speaking countries as well as on an international level. With their partly geometric, partly organic shapes, his towering Corten steel structures, created from uniform lamellae, awaken the impression of gigantic, plant-like formations of various kinds; the brown-reddish colour typical of Corten steel also conveys a particularly "nature-oriented" impression. With their slender yet powerful shafts, Herbert Mehler's works are simultaneously reminiscent of load-bearing elements of architecture and thus build a bridge between nature and architecture.
The sculptor's towering steel creations are displayed across the campus within a variety of groups bearing titles such as
Reaching for the Stars, Diversity, Thinking from Different Ends, Sustainability - Disrupted Growth
, etc. and thus represent fundamental leitmotifs of the university's identity such as ambition and determination, diversity, open-minded thinking as well as sustainability.
A comprehensive catalogue will be published for the exhibition, featuring not only numerous in situ photographs of the work on display, but also information on the artist and his work, as well as contributions by the President of Goethe University, Prof. Dr. Enrico Schleiff, the gallery owner Peter Femfert, and interdisciplinary texts on the different sculpture groups. The fact that several members of the Goethe University as well as affiliated institutions have contributed to the particular themes of the sculpture groups and accompanied them with their essays in a very individual way, constitutes another distinctive feature of this exhibition. Due to the manifold inputs, the exhibition turned into a genuine collective work and exudes - keyword diversity and science - the spirit of very different approaches and ways of thinking. "
Art and science come together here in an ideal way
," explains artist Herbert Mehler. "
The extensive park grounds of the Westend Campus give the sculptures the necessary space for them to breathe and set them in the context I envision for them, as intermediaries between nature and culture.
"
The exhibition catalogue will be officially launched on June 9, 2021 – on the occasion of the inauguration of the second part of the exhibition in the premises of
DIE GALERIE
. Here, further sculptures by the artist in medium and smaller formats will be presented until August 25, 2021.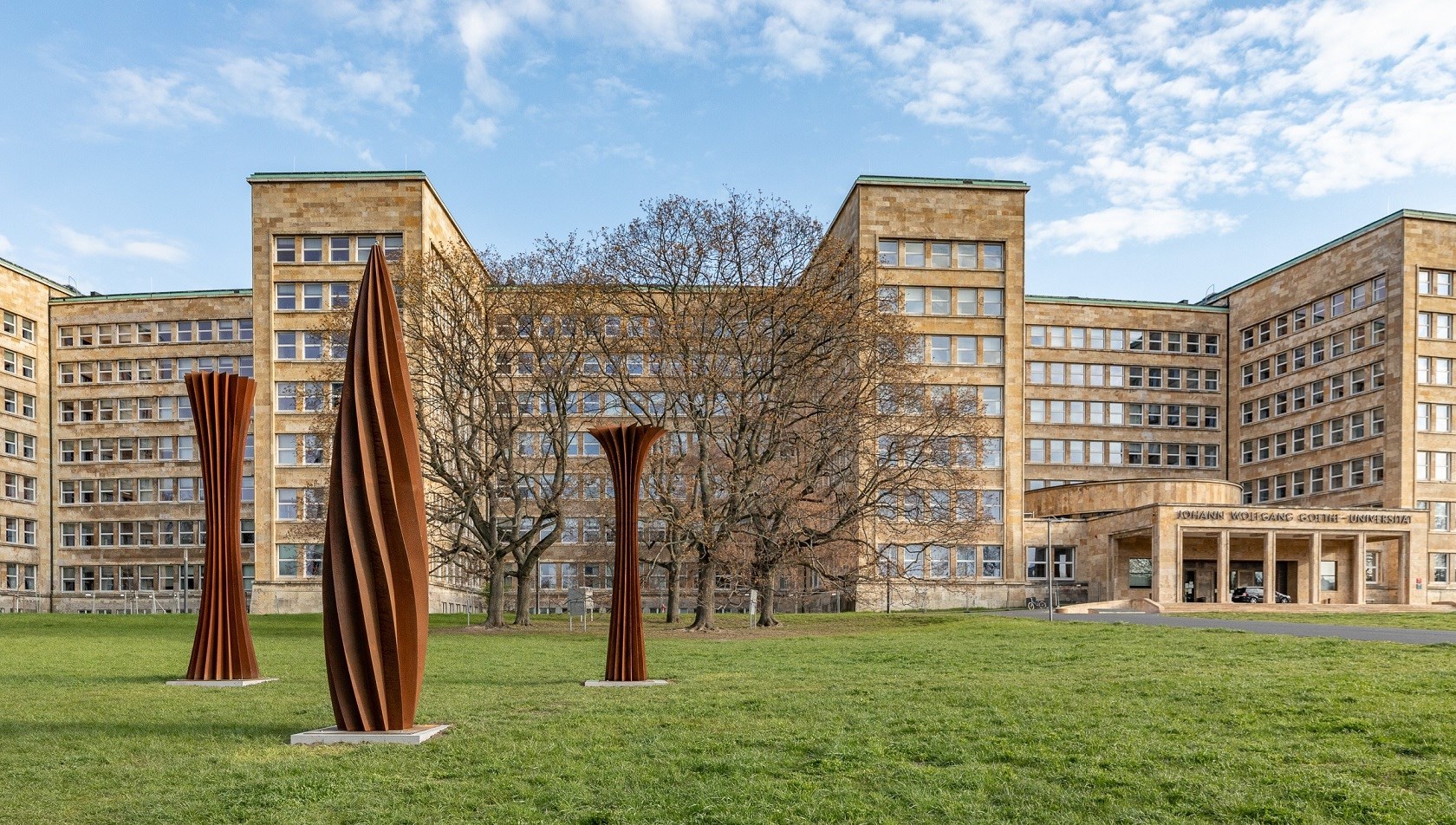 Sculpture group "
Reaching for the stars
" before the Poelzig Building of the Goethe University Frankfurt
Photograph by Lars Wiedemann, © DIE GALERIE
Click here
to watch the
exhibition video
.
Exhibition Herbert Mehler | Growth – Body – Space | Dialogue with Goethe University | May 15, 2021 - April 24, 2022
Westend Campus, Goethe University Frankfurt am Main
Norbert-Wollheim-Platz 1, DE-60323 Frankfurt am Main, Germany