Galerie Von Vertes –Who's afraid of POP ? – 17.05 > 30.06.2021
---
18/05/2021
Galerie von Vertes is proud to present Who's Afraid of POP?, an extensive exhibition that features the leading artists within the Pop and Neo-pop movements exploring its main influences and ground- breaking achievements. In the last 4 years a wave of retrospectives and exhibitions honoured and highlighted the works of Richard Bernstein, Keith Haring, Robert Indiana, Roy Lichtenstein, Sigmar Polke, Robert Rauschenberg, Andy Warhol, Tom Wesselmann but why do we feel so connected to this movement today?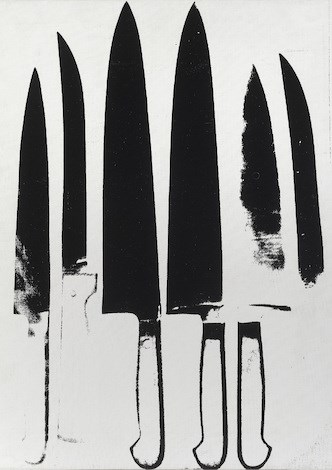 Andy Warhol (Pittsburgh 1928 - 1987 New York)
Knives
, 1981-1982
Acrylic and silkscreen ink on canvas, 50,8 x 40,6 cm

The pioneers of Pop art reimagined what art could be in a time of profound social, technological, and political changes. Therefore, a visual language was conceived that simultaneously implied a glorification and criticism on the consumer society making use of the same techniques that advertisement relied on. As we are in a similar situation today it makes sense looking back at the insights of these trailblazers.

Andy Warhol (Pittsburgh 1928 - 1987 New York)
Clockwork Panda Drummer (Toy Painting)
, 1983
Acrylic and silkscreen ink on canvas, 25 x 20 cm
Verso signed and dated 'Andy Warhol 83' and numbered 'A118.072'
In
Who's Afraid of POP?
Galerie von Vertes is exploring the intrinsic motivations of the artists and the international appeal of the movement. The exhibition focusses on 20 selected works that were created between 1966 until 2010 offering surprising insights in the pioneering roles of each artist and their pivotal friendships and rivalries.
Watch the video here
.
Contact:
Galerie von Vertes
Bahnhofstrasse 16 - 8001 Zürich (Switzerland)
Tel: +41 (0)44 211 12 13 - info@vonvertes.com -
www.vonvertes.com