Rosenberg & Co. - Dorothy Dehner - 15.05 > 20.08.2021
---
10/05/2021
The exhibition highlights
Dorothy Dehner
's watercolors and sculptures from the 1950s, a decade in which the artist actualized her unique form of abstraction, gained critical recognition and representation, and fulfilled her long-standing desire to create sculpture. The nine works on paper in the exhibition exemplify Dehner's mature practice—a sense of character suffuses each work, animating the biomorphic forms and strong, architectonic lines. The works on paper are accompanied by wooden and metal sculptures, as well as a rare silver and bronze
chess set
.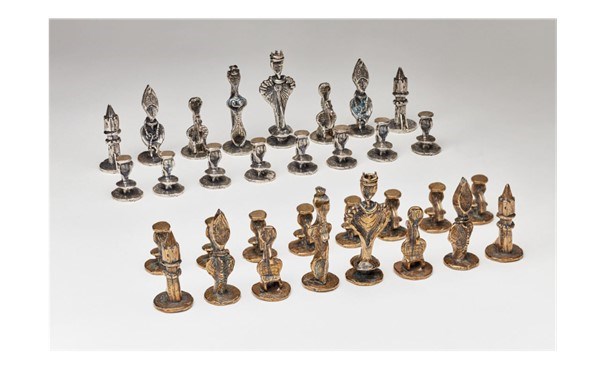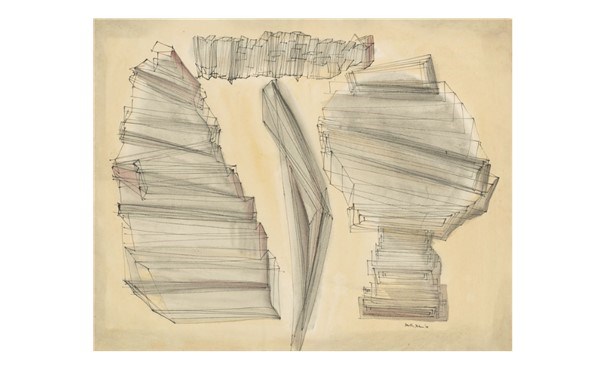 Dorothy Dehner was an American sculptor and printmaker, born in Cleveland, Ohio. As a young woman, she studied modern dance and acting, and only seriously started studying fine art after traveling to Europe and seeing important works by Picasso and Matisse. Dehner enrolled at the Art Students League in New York to study sculpture, but turned to painting after becoming frustrated with the traditional style of her teachers. It was in New York that Dehner met the artist, David Smith, whom she married. Dehner's artistic career was at a standstill during her marriage to Smith. While Dehner drew, painted, and participated in group shows, she focused the majority of her attention on advising Smith.

Dehner and Smith spent many of their summers at their upstate home in Bolton Landing, before moving there in 1940. Dehner addressed her conflicted feelings about Bolton Landing and her domineering husband in two series of drawings: Life on the Farm, idyllic representations of everyday life, and the Damnation Series, featuring demonic figures surrounded by vultures and bats. While working on these figurative, expressive series, Dehner also produced graphic works in the abstract style of Cubist art, as seen in Bolton Landing (1950).

These works precede Dehner's transition to sculpture, which she only pursued after divorcing Smith and studying with Stanley Hayter. Dehner created her earliest sculptures in wax, but in 1955, she started to cast her sculpture in bronze. Dehner adapted the rectilinear, formal language seen in her early prints and drawings for her sculptures, which increased in scale as her career progressed. Her wide, horizontal sculptures often suggest landscapes, while her vertical works have a totemic or iconic presence. Although Dehner's career as a sculptor did not develop until later in life, she received a great deal of recognition and worked prolifically until her death at the age of ninety-two.
Learn more about the exhibition
here
.
Contact
19 East 66th Street
New York, NY 10065
T: (212) 202-3270
E: info@rosenbergco.com
www.rosenbergco.com