RÖBBIG MÜNCHEN - April 2021 - The Art of Travelling · Cutlery and services in their original cases and étuis
---
21/04/2021
Dear clients and friends,
Travelling has been one of the most important activities of mankind for centuries, be it for commerce, to conquer new territory, to expand knowledge or gain divine favours by pilgrimages.
Already during the Renaissance, luxurious drinking vessels made of exotic materials such as coconut or nautilus shell, became symbols of the exploration of distant countries and goblets in the shape of ships represent ideal illustrations of travelling.
Intensive trade relations, especially with the Far East, soon made an impact on European fashions and trends: beverages such as tea, coffee and cocoa found their way into the lives of wealthy 17th century merchants and nobles. During the Enlightenment in the 18th century the "Grand Tour" to the ancient sights of Western civilization in Italy and Greece became an important educational tool. Young aristocrats were now eager to study art, culture, history, languages and science in their original places.
Due to the somewhat hectical travel activities of sovereigns within their territory, there arose a need and necessity to always carry precious table and everyday items made of silver, gold, but also glass and porcelain with them. Even during exclusive hunting parties, an appropriate table setting was placed outside for the Déjeuner (see above). Accordingly, elaborate leather boxes and cases lined with silk or velvet were made for these objects (French: "nécessaires"), which were to protect the transported goods from damage and at the same time they together with theit contents turned into additionally splendid showpieces.
Such exclusive toilet, writing and cutlery sets or coffee, tea and chocolate services in cases often were used as luxurious gifts (e.g. as part of the bride's corbeille de mariage), which were rarely in use, the decorative ensemble rather testifying the lavish way of life of the 18th century.
In the following, we present you a selection of precious sets in their original cases and etuis, which at least will allow you to travel in your minds...
Kind regards
Alfredo Reyes & Team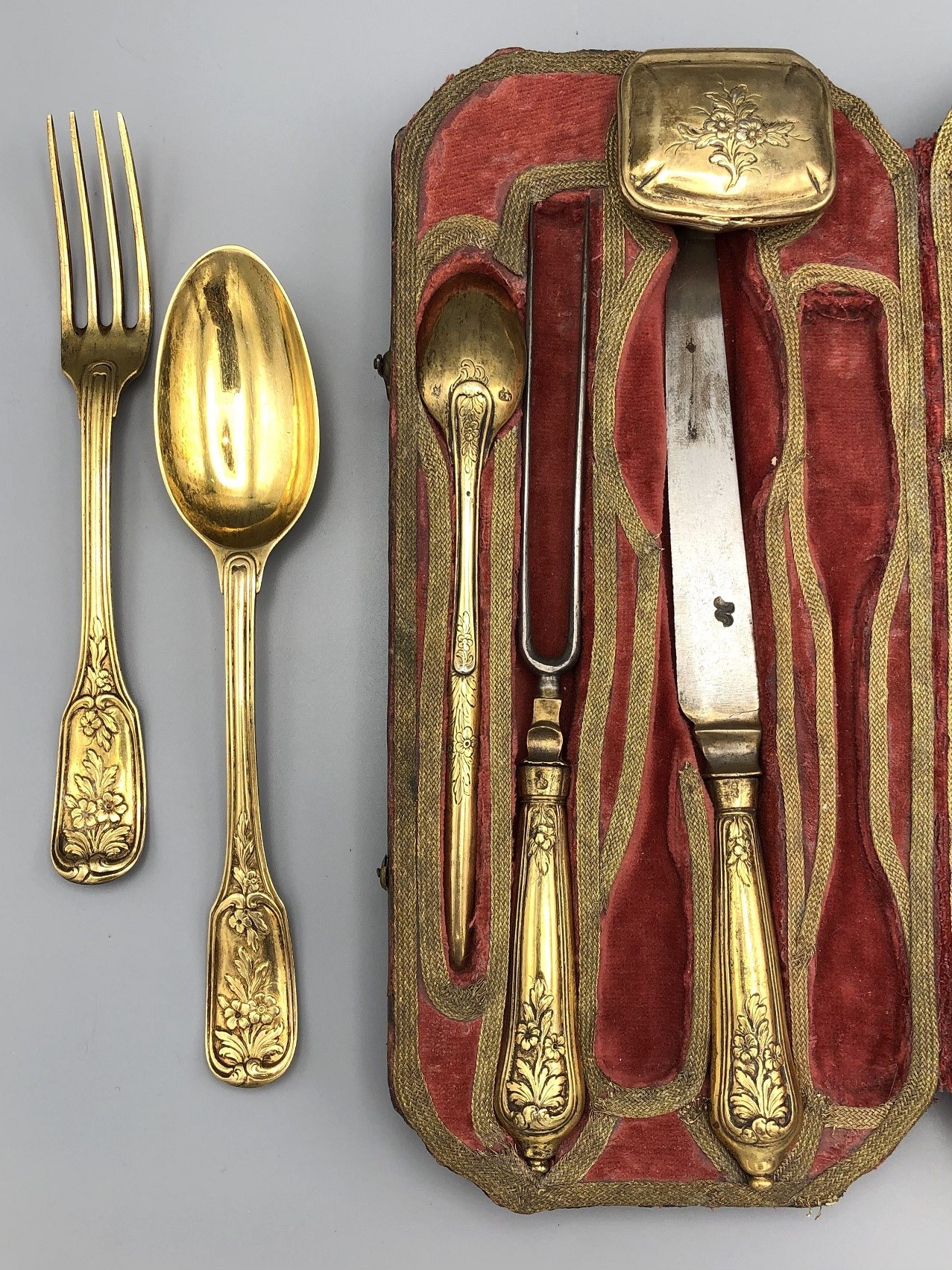 A Nécessaire de Voyage ("Mundzeug") in its original leather étui
comprising a fork, a knife, a spoon, a meat fork, a small marrow scoop and a spice box
Augsburg, 1775-77
Silver, gilt, chased; iron
Augsburg hallmark 1775-77, master's mark "IEN" for Johann Esaias Niggus (Augsburg 1731-1815 ibid., master in 1768)
L. 26,5 cm, w. 12,5 cm (étui), l. 24,5 cm (knife)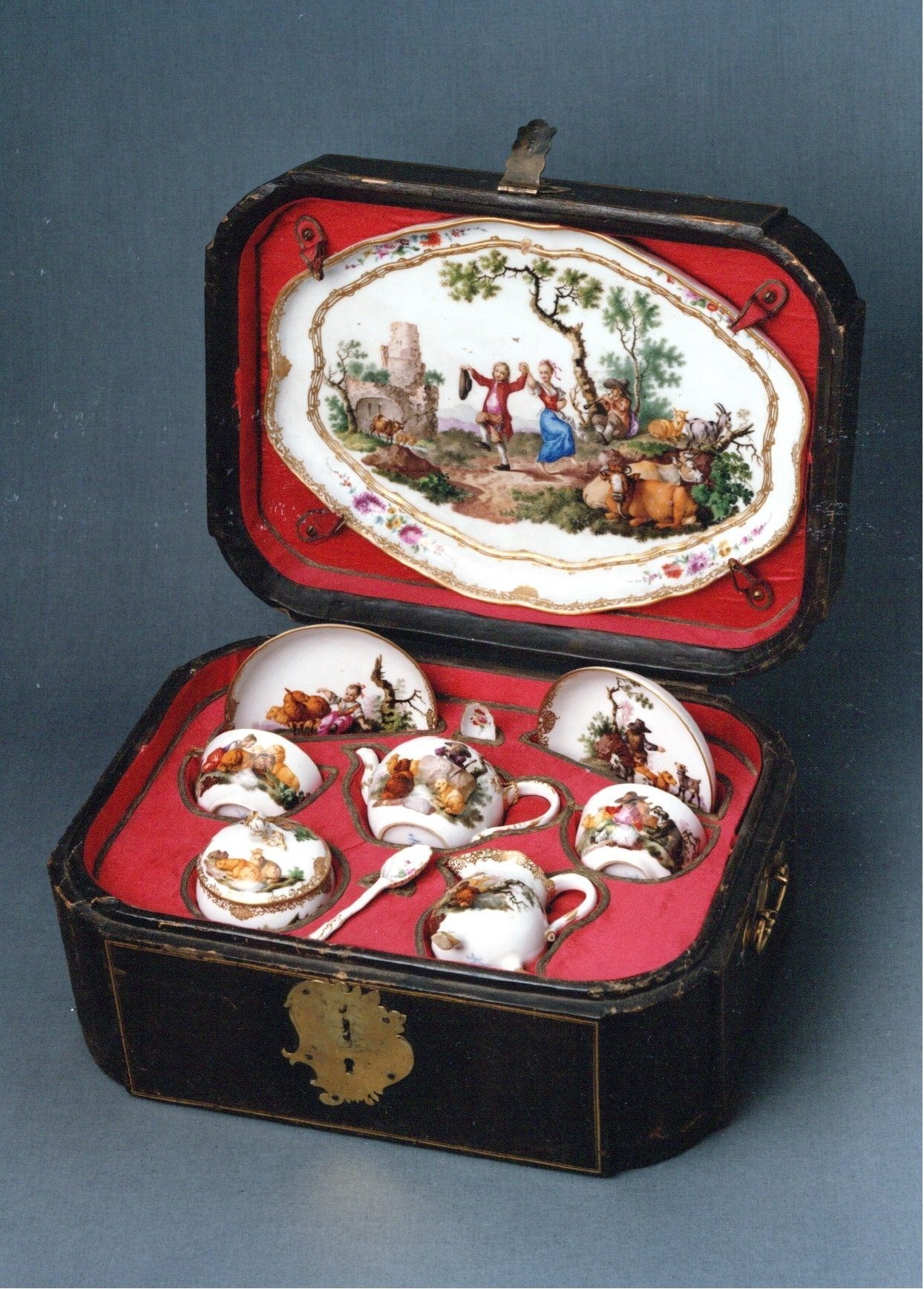 A ten-part tête à tête with pastoral scenes in its original travelling case
comprising a tray, two cups with handles and saucers, a teapot, a milk jug, a sugar bowl and two spoons
Meissen, c. 1770
Crossed swords marks in underglaze blue with dot; impressed numeral "11"
H. 20 cm, w. 37 cm, d. 27 cm (case)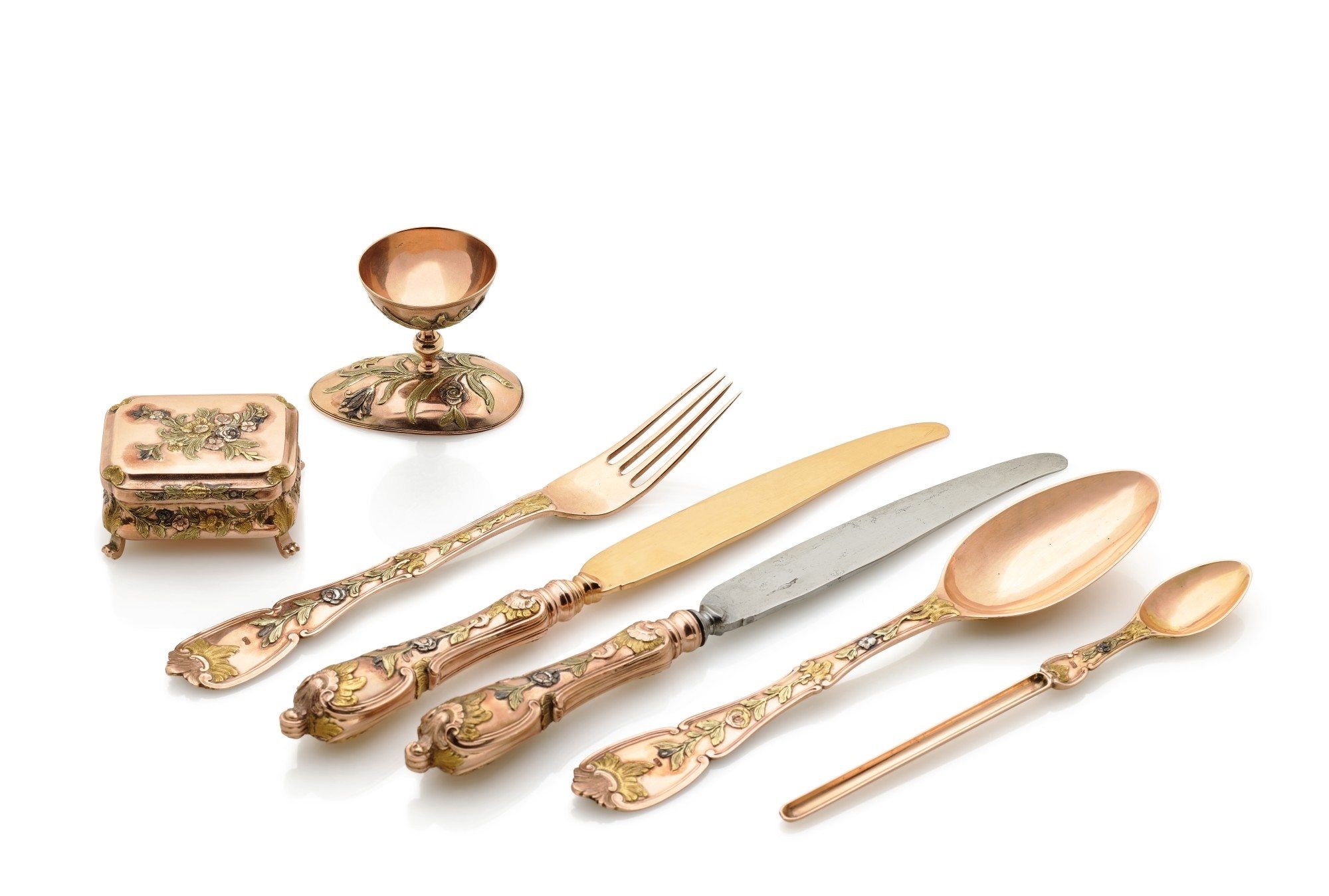 A four-colour gold Nécessaire de Voyage ("Mundzeug") in original leather étui
comprising two knives, a spoon, a fork, an integrated marrow scoop and spoon, a reversible egg cup and a spice box
Germany or Austria, c. 1760
Brünn control marks 1806-1824, struck "F20" for 20 carat gold, later French import marks
L. 31 cm, w. 16 cm (case), l. 23.2 cm (knife)
Provenance: Collection of Baron de Redé and Baron Guy de Rothschild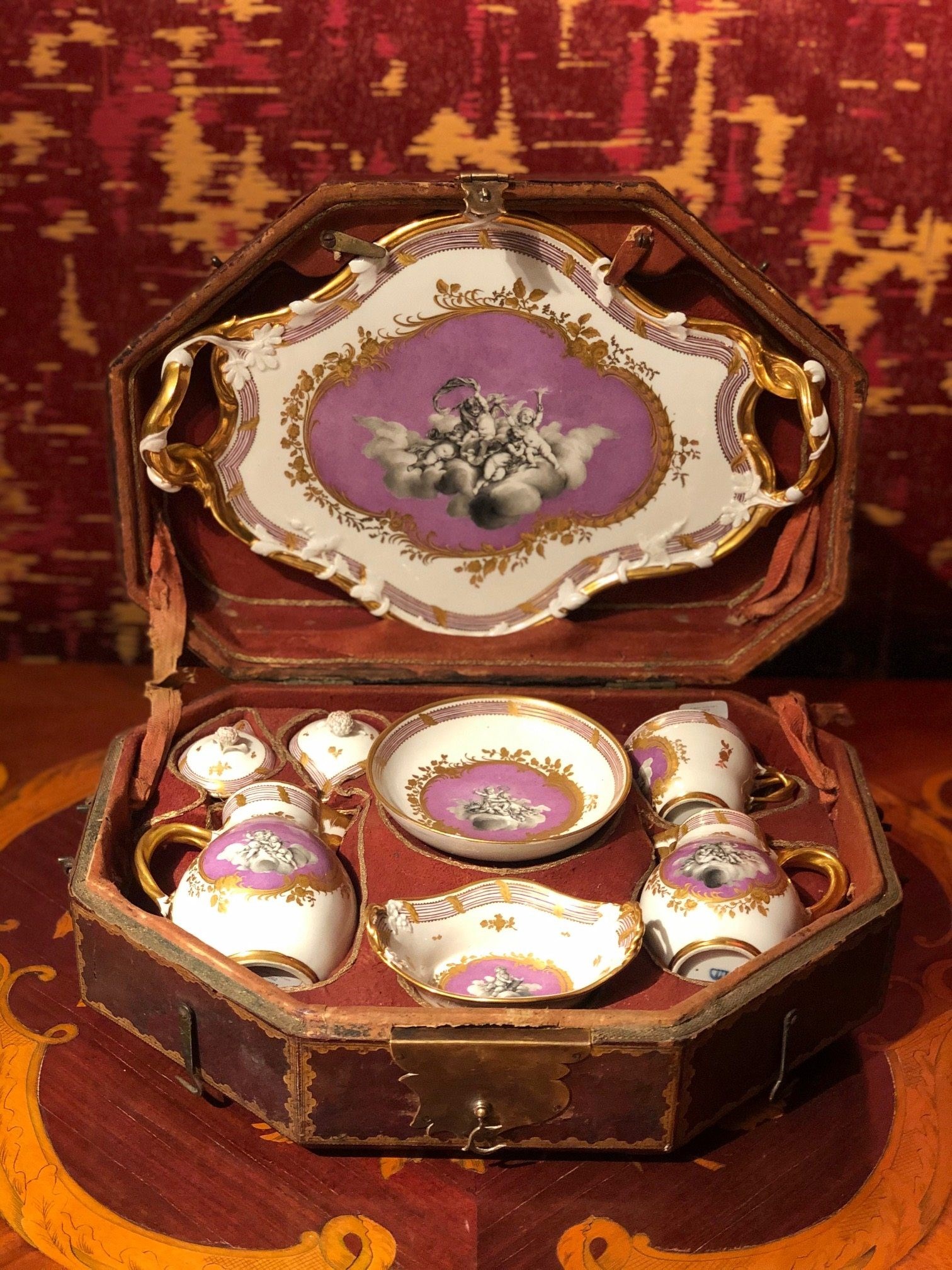 A six-part solitaire with grisaille scenes after Boucher on a pink ground in its original travelling case
comprising a tray, a cup with handle and saucer, coffee pot, milk jug, and sugar bowl
Vienna, c. 1765-70
Shield mark in underglaze blue; incised marks "3" and "N"
H. 14,5, w. 37, d. 26,5 cm (case)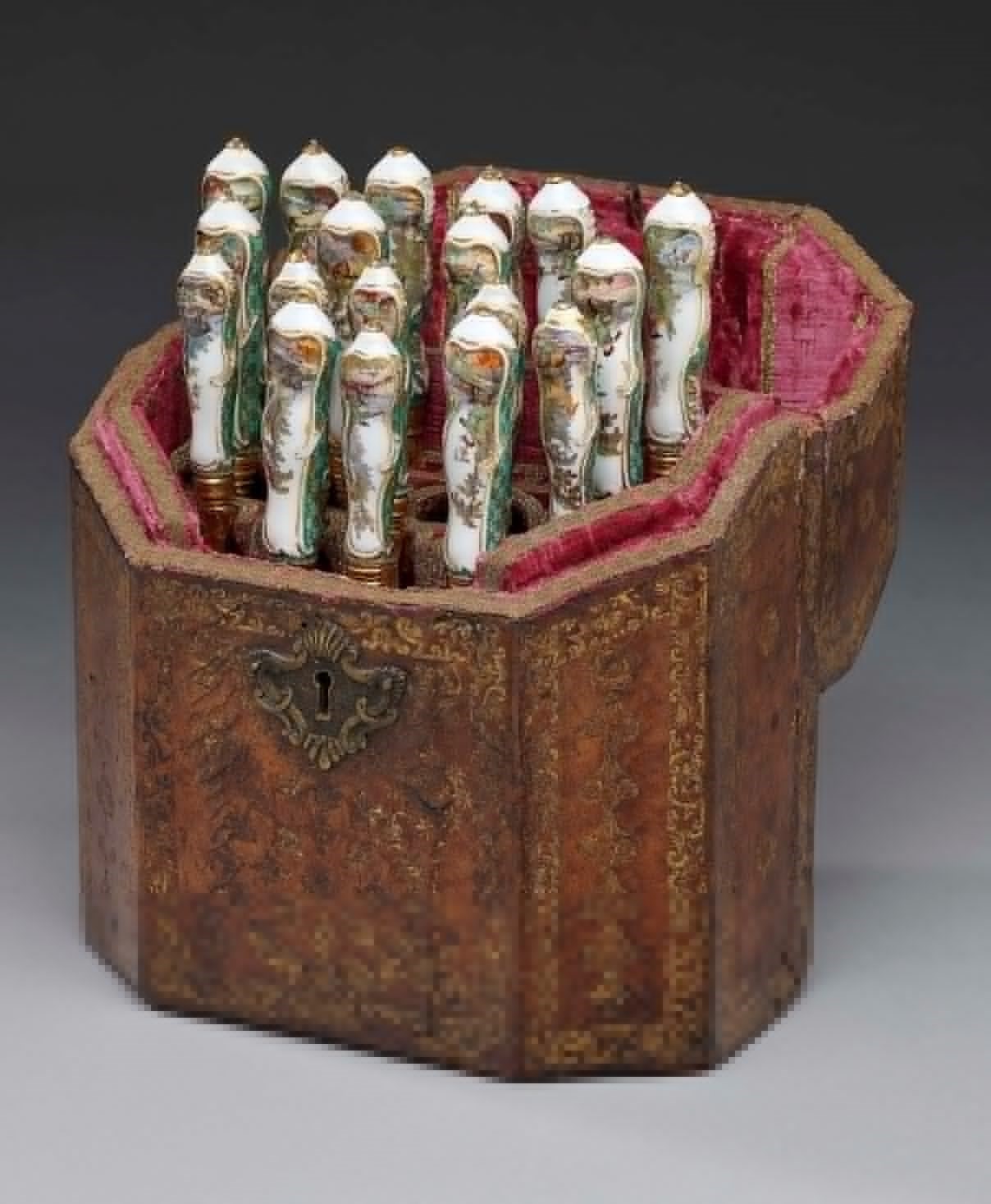 A cutlery decorated with hunting scenes and green-mosaic ground in its original case
Meissen, c. 1745
Silver gilt blades and forks, most probably Dresden c. 1745
H. 28 cm, w. 22.5 cm, d. 11 cm (case)
Contact:
Röbbig München
Rienner Strasse 25 – DE-80333 Munich
Tel +49 89 299758 - info@roebbig.de –
www.roebbig.de