Van der Meij Fine Arts - Artist of the Month - Laurits Andersen Ring
---
14/04/2021
The Danish painter Laurits Andersen Ring (1854-1933) lived in the village of Karrebæksminde, near Næstved in south Zealand, between 1896-98. It was there that he produced a large number of striking landscapes, which can in many ways be seen as paving the way for the almost proto-abstract paintings he was to make a few years later.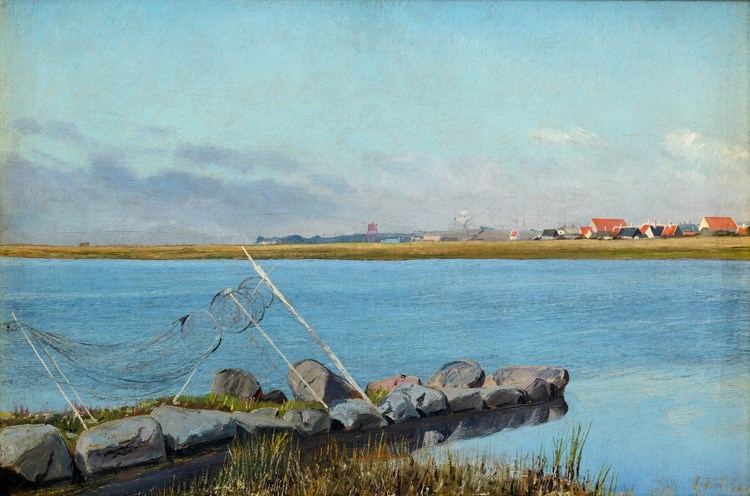 THE FJORD AT KARREBÆKSMINDE, 1897
Signed and dated lower right: 97 L A Ring
Oil on canvas
31 x 46 cm
PROVENANCE
Private collection, Denmark;
Private collection, United Kingdom
The present painting presents a view of the fjord near Karrebæksminde. Typical for Ring is the enlarged frontal perspective, with descriptive detail, looking out onto an elevated horizon. Up close the viewer can study the lyme grass, the rocky outcrop and the eel trap that has been strung across the foreground. Ring has made decided use of stark colours: the water is of a translucent blue, which contrasts with the nebulous sky and the red roofs of the houses in the distance. The artist is clearly engaged in an adroit play with perspective, where the viewer's eye alternately switches between a repoussoir nearby and staffage depicted seemingly in the far distance. Although such an optical illusion was certainly not novel, Ring does add his own particular touch. By lending the overall composition an almost plain, flat feel, kept in simple layers, the painting exudes an ambiance of peaceful calm.
For the artist himself this was a particularly happy period. Although Ring had known moods of utter despair, his marriage to Sigrid Kähler in 1896 ushered in a period of domestic stability in his private life. This is reflected in the lightness of many of his paintings from this period. The works from this stage in his career are therefore without exception uplifting and life-affirming, whilst at the same time representing Scandinavian 19th century naturalism at its best.
L.A. Ring is one of Denmark's most important 19th century painters, who developed a wholly idiosyncratic visual language in which realism and symbolism subtly interact. By the time he died, he had notched up considerable success in his artistic career and had participated in many international exhibitions. Success was not predestined however. Ring had struggled initially to establish himself as an artist: he found it difficult to adapt to the strictures of the official curriculum at Copenhagen's Royal Academy. He dropped out and lived a hand-to-mouth existence for much of the 1870s, until he regained a sense of direction after enrolling at the "free study" school of P.S. Kroyer, Denmark's leading Impressionist. He achieved modest success in 1882, when he was first allowed to participate in the prestigious Charlottenborg exhibition. His subsequent travels to Belgium, France and the Netherlands in the late 1880s allowed him better to discover French realism, with the work of Millet, Bastien-Lepage and Raffaëlli striking a particular chord.
Although Ring was quietly forgotten after his death for a while, in recent years his art has been rediscovered. Leading international museums have purchased examples of his work in the last 5 years, including The National Gallery, London; the Toledo Museum of Art, Ohio and the Currier Museum of Art, New Hampshire.
Contact
Dr. Lorenz van der Meij
Herengracht 372 | NL-1016 CH Amsterdam
t. +31 (0)20 36 27 022 | m. +31 (0)6 15 50 90 95
info@vandermeijfinearts.com
|
www.vandermeijfinearts.com