ROSENBERG & CO. - AMERICAN ABSTRACTION: BEATRICE MANDELMAN + JEFFREY WASSERMAN > 22.05.2021
---
06/04/2021
The current exhibition American Abstraction:
Beatrice Mandelman + Jeffrey Wasserman
highlights the paintings and collages of these two artists of the twentieth century. United in this exhibition, the bright and lyrical works of Mandelman and Wasserman convey unique forms of American abstraction. This week, we are bringing you a deeper look into the biography of Beatrice Mandelman.
"Paint life, not theory of life."
– Beatrice Mandelman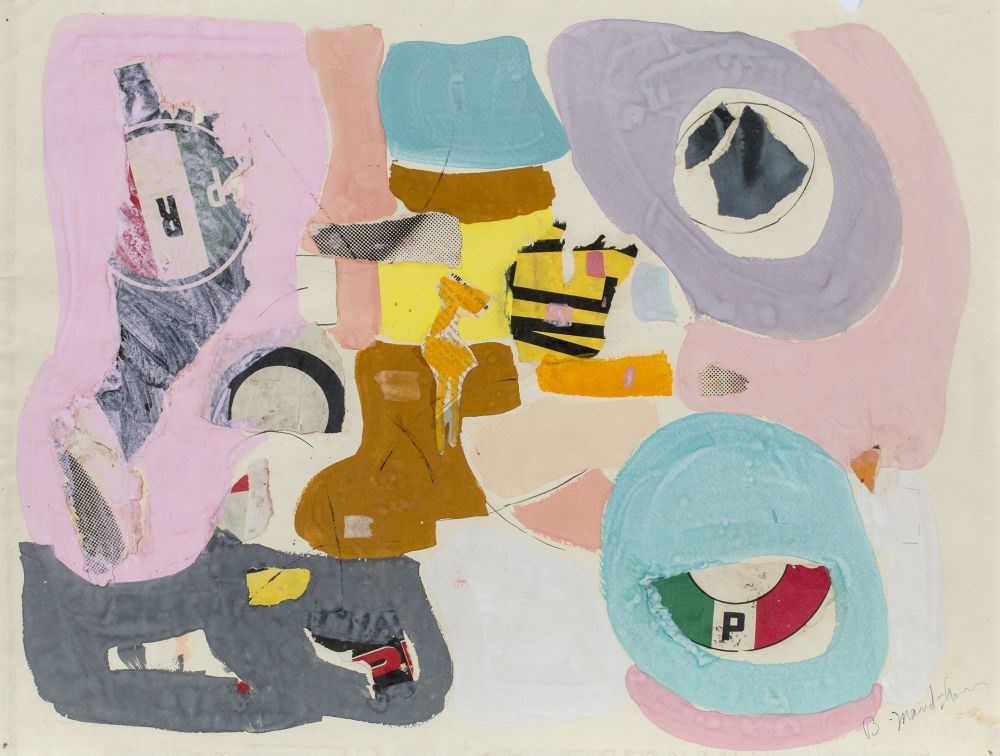 Beatrice Mandelman, Mexico, c. 1950, collage, acrylic on paper, 18.9 x 24.2 in.
Beatrice Mandelman was born in Newark, New Jersey, the daughter of Jewish immigrants from Austria and Germany. While still a child, she was introduced to art by her parents' friend Louis Lozowick, and began taking classes at the Newark School of Fine and Industrial Art. As a young woman, she studied at Rutgers University and then later at the Art Students League in New York. During the Great Depression, she worked for the Works Progress Administration, first as a muralist and then as a screenprinter. In 1942 she married the painter Louis Ribak. Two years later they moved to Taos, New Mexico, where they would live for the rest of their lives.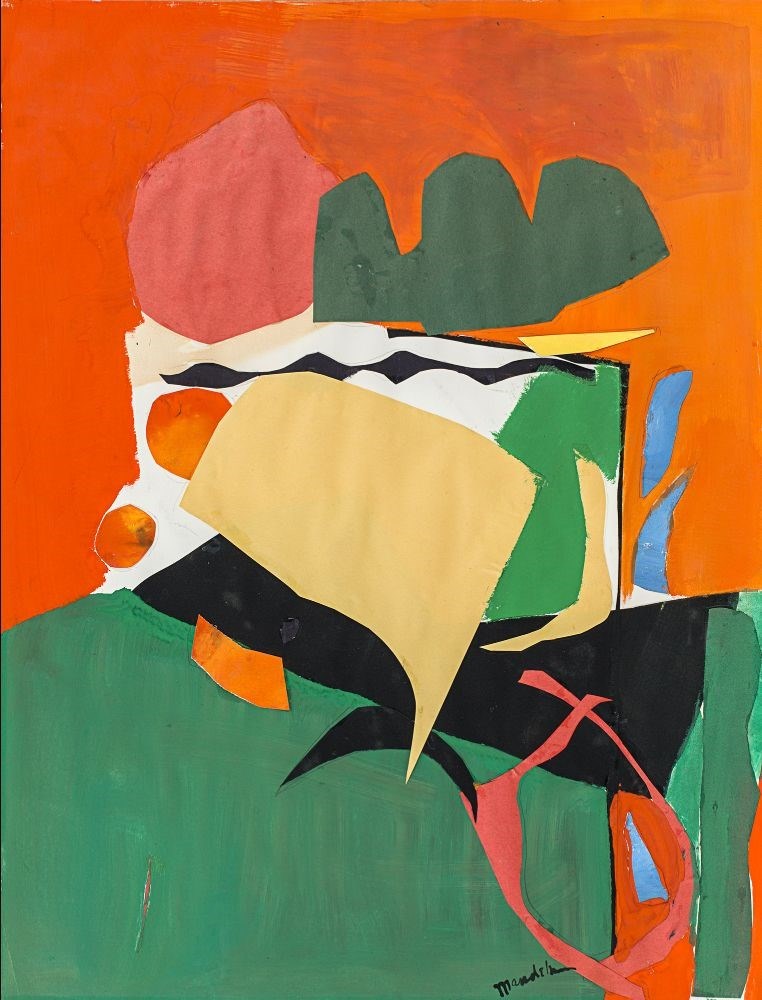 Beatrice Mandelman, Untitled, c. 1960, collage, acrylic on paper, 25.5 x 19.6 in.
In Taos the young couple became the center of a group of artists known as the Taos Moderns, which included Emil Bisttram, Edward Corbett, Agnes Martin, Oli Sihvonen, and Clay Spohn. Mandelman and Ribak opened the Taos Valley Art School, using the income they made from teaching classes to support their art making. In 1948, Mandelman moved to Paris for a year to study under Fernand Léger, and during this time she befriended Francis Picabia. While she was in Paris, Ribak purchased a sprawling adobe house for himself and Mandelman. They created an exhibition space in their living room, which they called "Gallery Ribak." The couple organized mini-exhibitions there, including a three-person show for themselves and their friend Agnes Martin in 1955.
During her lifetime, she exhibited at the Chicago Art Institute; the Dallas Museum of Art; the Museum of Modern Art, New York; the National Gallery of Art, Washington D.C.; and the Whitney Museum of American Art, New York. Today, her works are included in public collections across the United States, including the Art Institute of Chicago; the Denver Art Museum; the Metropolitan Museum of Art, New York; the National Gallery of Art, Washington, D.C.; and the Smithsonian American Art Museum, Washington, D.C.
Click
here
to see more works from the exhibition or
here
to learn more about the work of Beatrice Mandelman.
Contact
19 East 66th Street
New York, NY 10065
T: (212) 202-3270
E: info@rosenbergco.com
www.rosenbergco.com
The gallery is open Monday–Saturday, 10am–6pm.
Please email
kadie@rosenbergco.com
if you would like to schedule a private viewing.