MARUANI MERCIER – Emmanuel Taku, new gallery artist & solo exhibition 'The Chosen Few' - 03.04 > 15.05.2021
---
06/04/2021
MARUANI MERCIER is pleased to announce worldwide representation of Ghanaian artist Emmanuel Taku (b. 1986). Taku's first solo exhibition with the gallery will take place in our Knokke space from 3rd April to 15th May 2021, where he will present new works made during his recent residency at Noldor in Accra, Ghana.

A few words by Emmanuel Taku

"I am extremely delighted to be a part of MARUANI MERCIER at this crucial stage of my career. It's such an honour to have landed a collaboration with a blue chip gallery like MARUANI MERCIER right after my very first inaugural solo show with the Noldor Residency. I look back with gratitude and push forward with hope on all that the years ahead have to offer as I join the gallery. I am happy to have found a new home in Belgium with a flourishing gallery that has a global appeal, reach and ambition. Just like the way my paintings connect and believe that anything is possible, I believe our joint force will do greater things together. I actually look forward to a more exciting future as I grow tremendously in my practice."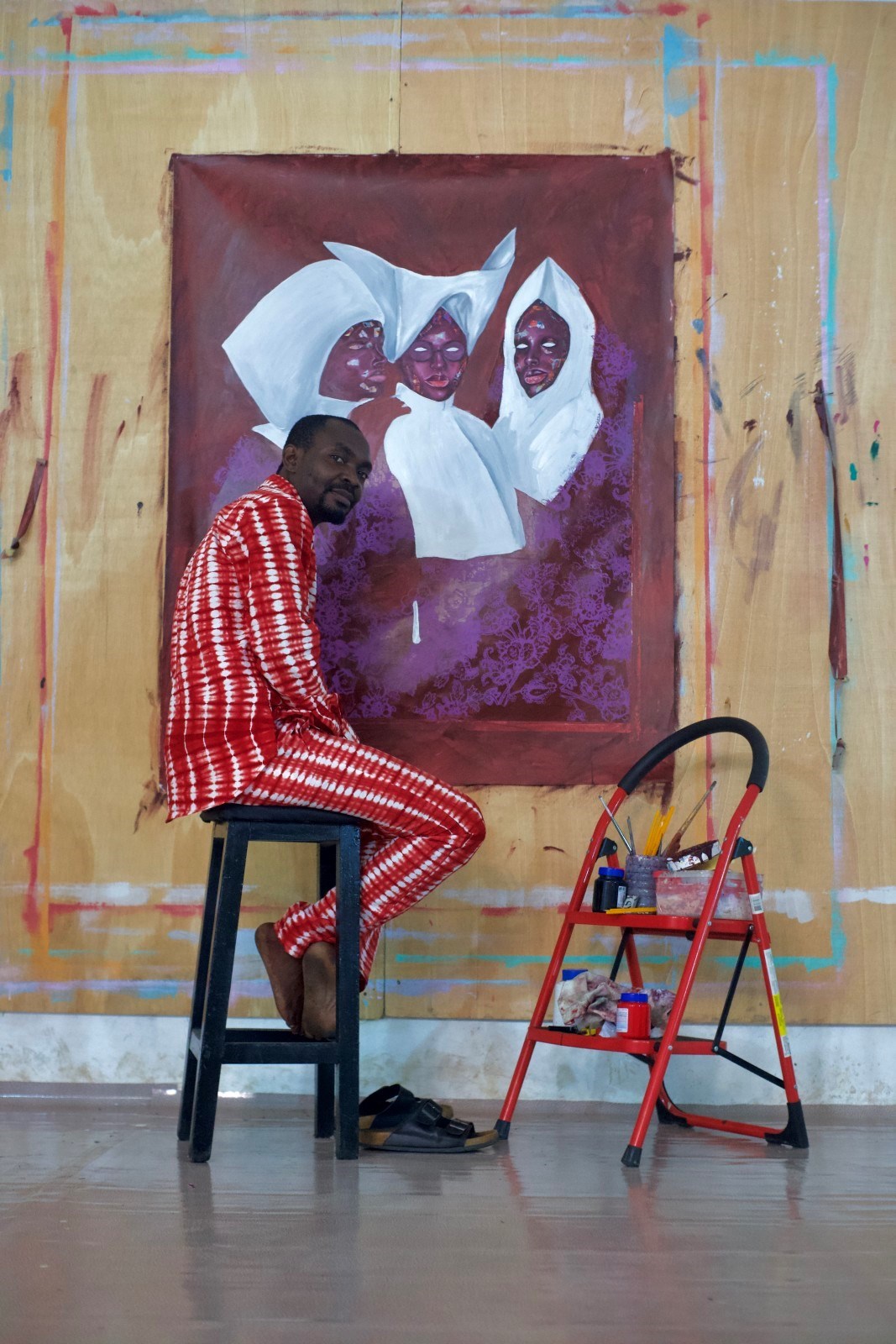 Emmanuel Taku: The Chosen Few

In his new body of work, Emmanuel Taku (b. 1986) presents ethereal portraits which give form to a new vision of Black identity. Rendered in subtle tones and nuanced brushwork, the subjects' faces and hands appear almost luminous, projecting a sense of confidence and poise. Turning to the viewer with their gaze replaced by white light, the figures seem supernatural and futuristic, their faces mask-like. Describing his visual language as 'figurative surrealism', Taku gives his subjects a mythic, god-like appearance, resolutely challenging the historic modes of portraying Black individuals.

Standing in pairs, Taku's subjects come together in mutual support, in a kind of brotherhood or sisterhood, to face us with an elegantly coordinated address. The sense of unity between the figures is further exacerbated by the shared patterns of striking intricacy and crispness, which form their clothing. Silkscreened on to the surface of the work, these patterns reflect the artist's longstanding passion for textiles and prints passed on to him by his mother. Referencing an important role, which patterned fabric have historically played in forming the identity of African nations, Taku here enters in a fascinating dialogue with a number of prominent African and diaspora artists, such as Njideka Akunyili Crosby and Portia Zvavahera.

Enveloped in a light shadow-like contour, the figures seem cut-out and pasted against a sheer monochrome ground. Taku's strategy here evokes the paintings and installations by the renowned artist Lubaina Himid, who has recently become the first woman of colour to win the Turner Prize (2017). In Himid's Turner Prize installation Naming the Money (2004), the painted cut-out figures form a kind of theatre set, surrounding the viewer to activate and perform the lost histories of Black individuals. In Taku's paintings, this technique similarly contributes to the sense of theatrical and performative, powerfully projected by his subjects.

Collaging the fragments of newspaper texts directly on to the figures' skin, Taku presents a poignant meditation on the political subtext of Black portraiture. In Brothers in White (2020), the hands and face of the protagonist are featuring such words as 'SEE', 'SKIN', 'MASK', rendered in small lettering of the magazine print. Taku therefore invites the viewer to take a closer look, in both a figurative and literal sense. Similar to Amoako Boafo, who trained with Taku at the Ghanatta Institute of Art and Design, the artist here presents the black skin as a contested, politicised space, calling to the revision of the ways in which it has been represented and read in the past.

As the artist writes, "This body of work was inspired by British-Ghanaian artist John Akomfrah's discussion on his perceptions as child that museums presenting works by J. M. W. Turner or John Constable were 'Temples of Whiteness.' This notion stuck with me and drove me to aspire for my own 'Temple of Blackness,' one that would capture Black people as demi-gods, or heroes. In depicting these Black bodies as abstract, analogous shapes, all-the-more united by their silkscreen casts, I seek to reclaim their anecdotal, objectified representation, instead affirming a shared, universal and strong Black identity."

MARUANI MERCIER is delighted to represent Taku at this crucial stage in his career and is looking forward to developing his recognition and exposure at an international level. As stated by Laurent Mercier, "Taku is an extraordinary emerging talent in contemporary painting. Using his unique style of 'figurative surrealism', he addresses pertinent issues surrounding race and identity with an elegant complexity".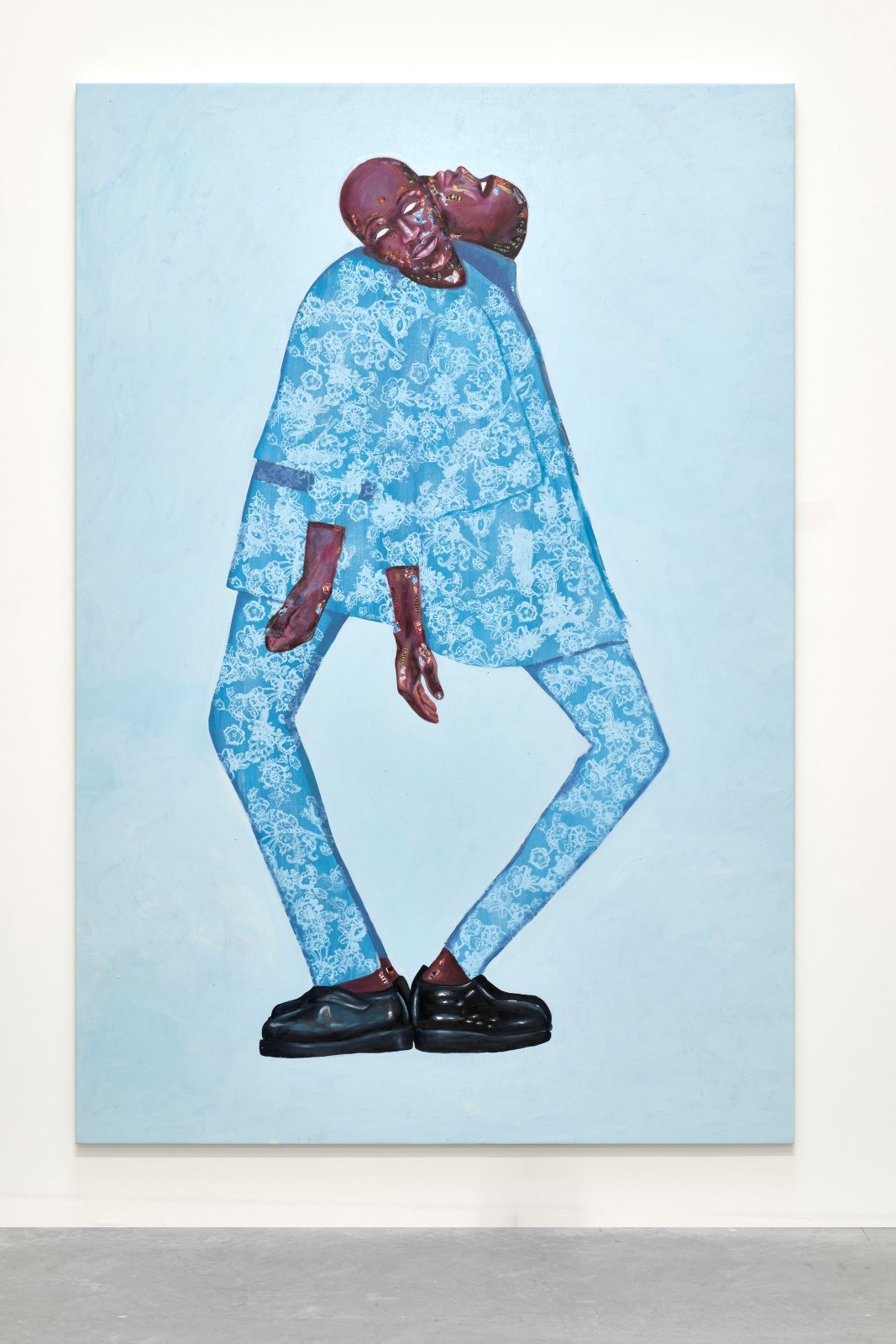 Emmanuel Taku,
Two Brothers in Teal
, 2021
Acrylic on canvas, 84 1/2 x 57 1/4 in I 214.5 x 145.5 cm

About Emmanuel Taku

Born in Accra, Ghana, Emmanuel Taku has been practicing portraiture for over ten years. A graduate in Visual Arts and Textiles from the Ghanatta College of Art and Design, where he studied with well-known figurative painters Amoako Boafo and Otis Quaicoe, Taku subsequently acted as an art teacher in figurative drawing. All-the-while pursuing his independent work, he sought inspiration from peers including rising Ghanaian artists Kwesi Botchway and Gideon Appah.

Selected to take part in Noldor's inaugural residency program in November 2020, Emmanuel Taku unveiled a new series of figurative surrealist portraits conceived through his distinct mixed-media approach. Titled Temple of Blackness – It Takes Two and presented at Noldor's studio space from December 4, 2020, to January 17, 2021, the exhibition marked Taku's solo debut and introduction to the contemporary art world.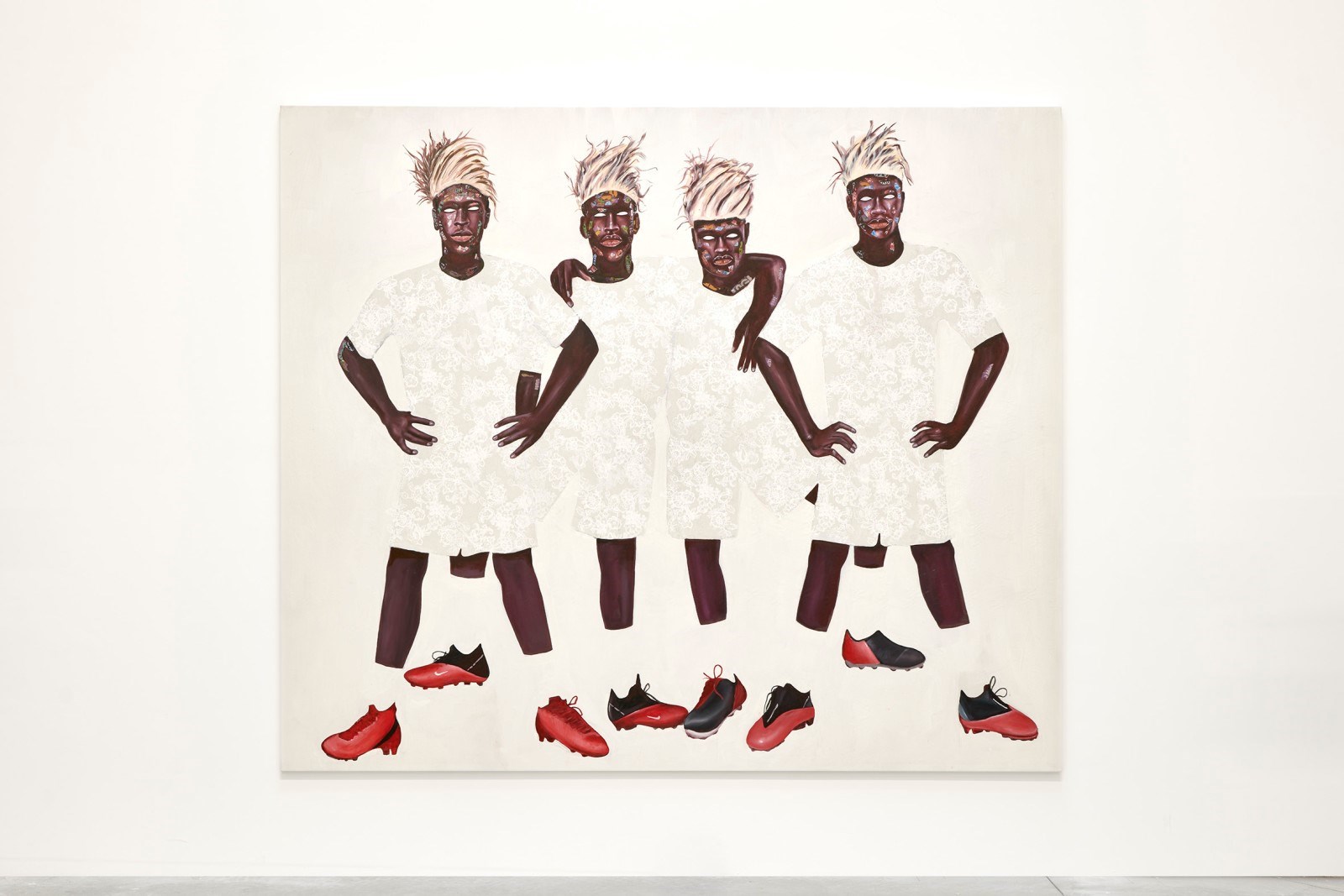 Emmanuel Taku,
Four Brothers in White
, 2021
acrylic on canvas, 200.5 x 235.5 cm I 79 x 92 3/4 in
Click here to the Viewing Room.
Contact:
MARUANI MERCIER - Gallery Knokke
Kustlaan 90 - BE-8300 Knokke-Heist
Opening Hours: Weekends and vacations only 11am to 1pm / 2pm to 6.30pm
Inquiries: Please contact Serge Maruani at serge@maruanimercier.com or call +32 473 97 72 36
www.maruanimercier.com