Galerie Christophe Hioco - Object of the Month: Serenity of Ayutthayā: a soothing crowned Buddha
---
29/03/2021
Dear friends,
dear collectors,

Peace and serenity: two key words that are more than welcome these days and our bronze Buddha from the 16th-17th century is the very embodiment of this.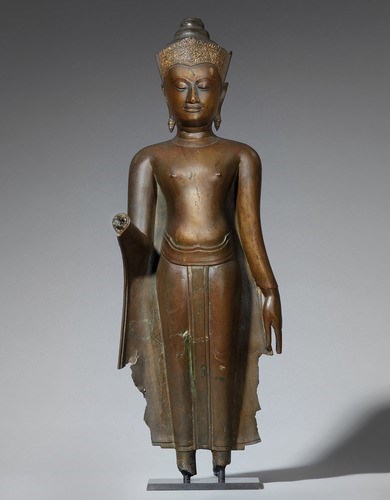 And so that it can accompany you in your daily life: we offer this artwork at the exceptional reduced price (displayed on our website)! This offer is valid only for this newsletter: an opportunity to be taken!
A very complete file in PDF format can be downloaded by clicking
here
.
In this video, Clément Gaësler shares his emotion for this artwork that touches the heart – watch it
here.
Please do not hesitate to contact us if you need any further information. All our research, all our notices, are also freely available on our website. You can see photos of the pieces, zoom in to see all the details, and read their detailed descriptions. All our catalogs are also available for free download.
You can also follow us on Instagram (galerie_hioco_asian_art).
Best Regards,
Christophe & Gildas Hioco
Contact:
Galerie Christophe Hioco
7 rue de Phalsbourg – F-75017 Paris
Tel. +33 (0) 1 53 30 09 65 - info@galeriehioco.com -
www.galeriehioco.com
Currently by appointment only.