Rosenberg & Co. - American Abstraction: Beatrice Mandelman + Jeffrey Wasserman > 22.05.2021
---
29/03/2021
The current exhibition American Abstraction: Beatrice Mandelman + Jeffrey Wasserman highlights the paintings and collages of these two artists of the twentieth century. United in this exhibition, the bright and lyrical works of Mandelman and Wasserman convey unique forms of American abstraction. This week, we are bringing you a deeper look into the biography of Jeffrey Wasserman.

"I'm trying to set up up enigmatic situations, the feeling that some incident has taken place but with nothing really spelled out, to the point that one interpretation outweighs another in the eyes of the viewer."
– Jeffrey Wasserman
Jeffrey Wasserman, Futile Ambassador, 1989, oil on canvas, 60 x 54 in.

Jeffrey Wasserman was born in Westchester County, New York to parents who were first-generation Americans of Russian Jewish descent. As a young teenager, Wasserman discovered a copy of Art Treasures of the Louvre that inspired his initial foray into the arts, and he made regular trips into Manhattan to visit museums and feed his growing passion. In high school, he began art classes with the Color Field painter Friedel Dzubas, who introduced Wasserman to the dominant figures of Modernism, from Willem de Kooning's gesture to Hans Hoffman's color theory. Wasserman then attended the Tyler School of Art in Philadelphia, receiving his BFA in Painting in 1968. The abstract painter Edward Avedisian hired him as a studio assistant, and when Avedisian moved upstate, he sold his Lower East Side studio to Wasserman, positioning the young artist at the heart of the 1970s SoHo scene.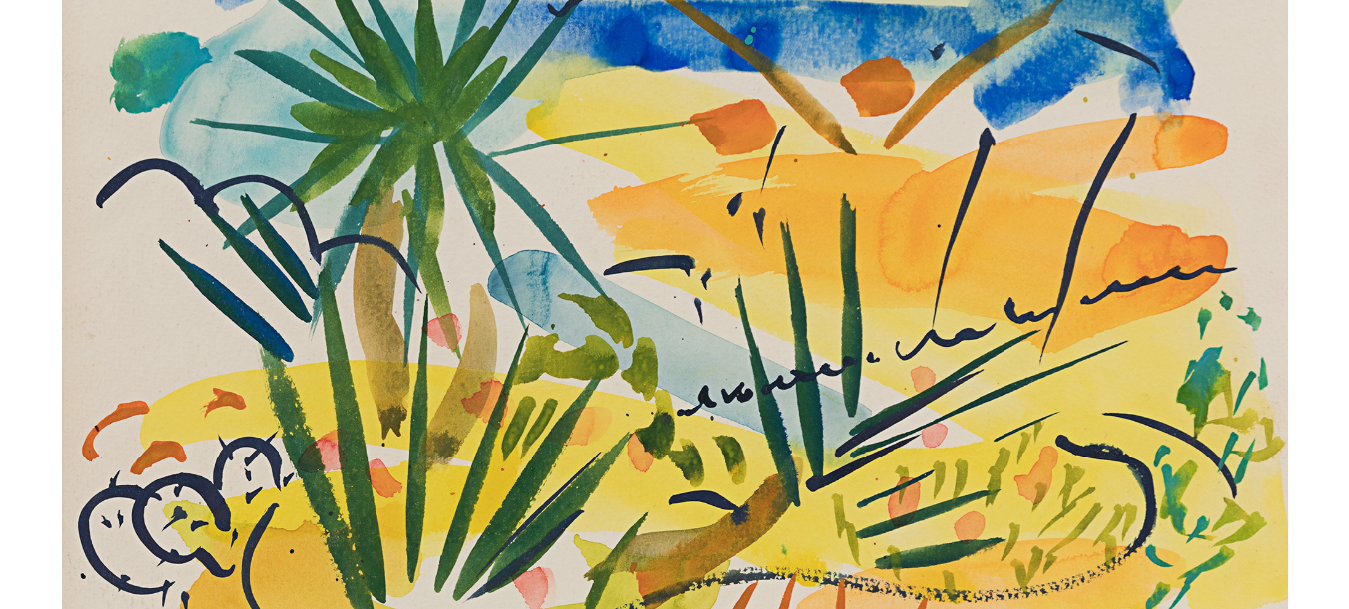 Jeffrey Wasserman, Untitled, 1990, watercolor on paper, 12 x 17 in.
Wasserman, like many of his contemporaries, injected a sense of playfulness and jest into his paintings through the use of color, discordant yet dynamic space, and cartoonish forms. What distinguished Wasserman's painting during the 1970s was his engagement with and representation of the vibrancy found in the mundane and everyday. His paintings sought to affect the viewer by evoking memories of common lived experiences de-familiarized through abstraction. In the early 1990s, Wasserman moved to upstate New York. The change in environment altered his style—the reoccurring motifs that occupied his abstract compositions of the 1980s faded behind a condensed field of scraped pigment, transforming the Hudson River Valley into a new sublime.
As an artist, Wasserman was determined to expand the limits of painting. He enjoyed an enduring engagement with the properties and problems of painting, and this drive led patrons and artists alike to refer to him as a "painter's painter."
Click
here
to see more works from the exhibition or
here
to learn more about the work of Jeffrey Wasserman.
Contact
19 East 66th Street
New York, NY 10065
T: (212) 202-3270
E:
info@rosenbergco.com
www.rosenbergco.com
The gallery is open Monday–Saturday, 10am–6pm.
Please email kadie@rosenbergco.com if you would like to schedule a private viewing.