Baronian Xippas - Seyni Awa Camara and Olaf Holzapfel - 03.04 > 30.05.2021
---
29/03/2021
Baronian Xippas Knokke is proud to present new works by Seyni Awa Camara (*1945 Bignona, Senegal) and Olaf Holzapfel (*1967 Dresden, Germany) in their duo show in Knokke-Heist. Displaying their works together for the first time represents an exciting opportunity to discover themes of past and present, of local and global culture in their practice. Camara's œuvre blends Senegalese ancestral techniques with fantastical and autobiographical subjects that break with tradition. Holzapfel's latest works similarly deconstruct notions of modernity and tradition, pursuing explorations from his project "Zaun" (Fence) produced for Documenta 14 in Kassel, Germany (2017). The exhibition will feature Camara's newest sculptures and Holzapfel's new works from the straw and chaguar fibre series. Their investigations into heritage, innovation, regionalism and internationalism resonate with today's societal concerns and awards their juxtaposition a particularly compelling relevance.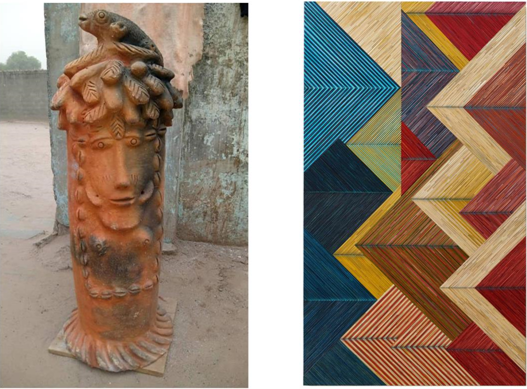 Due to the new governmental measures, the duo exhibition Seyni Awa Camara and Olaf Holzapfel will be visible by appointment only from the 3rd of April on. Please contact our staff to schedule your visit at
info@baronianxippas.com
or call us at 0479 54 91 60 (Morgan Haquenne) or 0470 55 86 20 (Tomas Borchert).