Berko Fine Paintings – Cheers! Gerard Portielje, a painter of great talent and humor
---
23/03/2021
Painter of genre scenes and interiors, Gerard Portielje studied under his father, Jan Portielje, and Jozef Van Lerius. He was the older brother of Edward Portielje. He began his career in 1875 and was particularly interested in anecdotal subjects.

Like his brother, Edward, Gerard Portielje was a genre painter, but he chose his subjects from a completely different field: the bourgeois and the gentleman of the 19th century attracted his attention.

Few artists have painted with such a spirit, firmness and humour as Gerard Portielje.

He was an excellent artist who executed all of his works with great dexterity.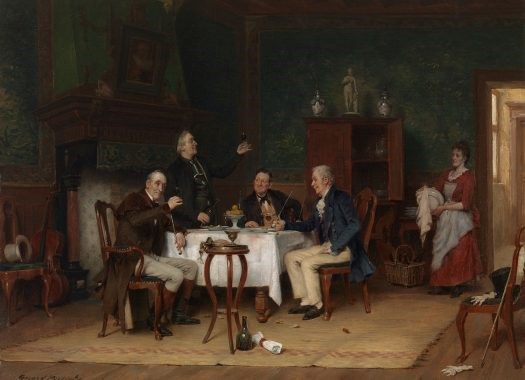 Gérard Portielje (1856 – 1929) – Cheers!
Belgian School
Oil on canvas, 47 x 63 cm / 18.5 x 24.8 ins
Signed lower left
Contact
Berko Fine Paintings
Kustlaan 163 - B-8300 Knokke-Heist
T +32 (0)50 60 57 90 - information@berkofinepaintings.com –
www.berkofinepaintings.com