DIE GALERIE |Volker Stelzmann | City-Workshop - Works from 1964 to date | 24.03 > 02.06.2021
---
26/03/2021

The meanwhile 80-year-old artist merely allows himself a momentary glimpse back, before returning his full attention to the easel before him; now as ever, it remains Volker Stelzmann's most beloved place. He still strives for a dialogue with his painted subjects, who more than rarely try to elude him. Apart from a few occasional excursions into still life, individuals continue to constitute his prime focus, whether they are drawn from biblical texts, from the theatres and vaudevilles of the 1920s, from contemporary Berlin street life or completely out of touch with time – no matter whether in typified simplification, in a conundrum with masks or in portrait-like individualization – in Volker Stelzmann's world, profound humanity reveals itself in all poses.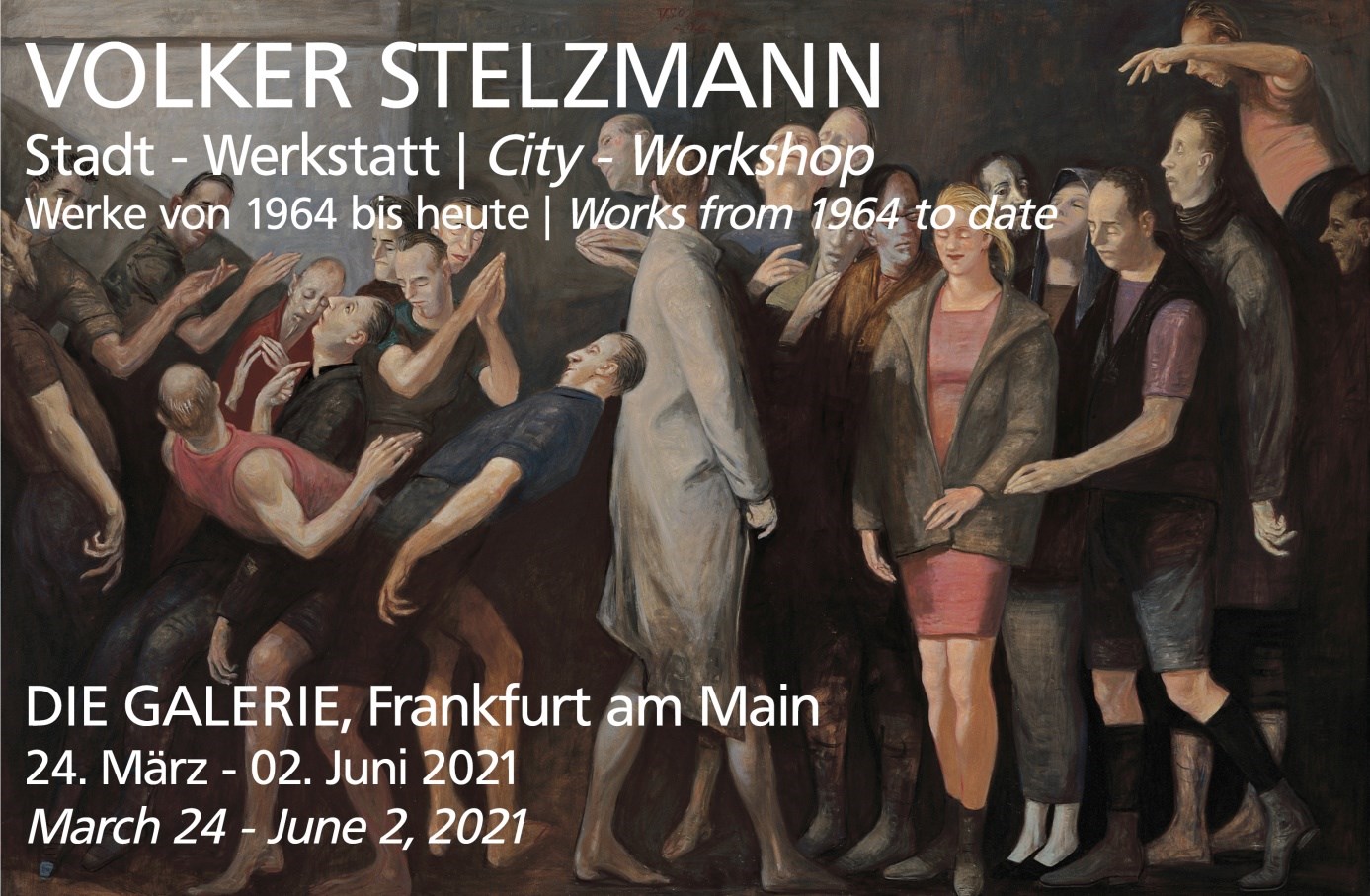 The artist's now seventh exhibition in DIE GALERIE, featuring works from 1964 to the present, reveals a great master of contemporary figurative painting. Self-willed he has always been, for even in his portraits, which he created while still a recognized painter in the GDR, there is no trace of pathos; instead, a subtle appropriation of Christian symbols and attributes as well as a sophisticated irony resonate in many of his scenes. And even when he powerfully paints the odd characters from the streets, huddling in underground shafts and wagons without turning their faces or talking to each other, his profound gaze on people always remains a human one.
Our retrospective exhibition of around 50 works is intended as an extension of the museum tributes organised at the occasion of the artist's 80th birthday, which you can visit in parallel at the Kunsthalle Schweinfurt until 30 May 2021. As you are already used to, you can now also view our exhibition comfortably from home, in
the opening film
with Peter Femfert and Elke Mohr and in a
3D presentation
in which you can go through our gallery rooms online by clicking the mouse and take a closer look at each work.
Would you like to see the exhibition physically on site ? No problem! Contact us and we will arrange nan appointment with you.
Opening Hours
Mon - Fri 9:00 am - 6:00 pm – Sat. 10:00 am - 2:00 pm
Contact:
DIE GALERIE
Grüneburgweg 123 - 60323 Frankfurt am Main
Tel +49 6997 14 71 20 - info@die-galerie.com -
www.die-galerie.com