Berko Fine Paintings - Georges Jules Victor Clairin, the Orientalist that loved Morocco
---
12/03/2021
The painting represents a Moroccan fantasia by foot which was quite rare since most fantasias were on horseback where the horses would race from one side to the other of the square.

Here, they are replaced with ceremonial rifles where the rifles are shot while dancing in a circle.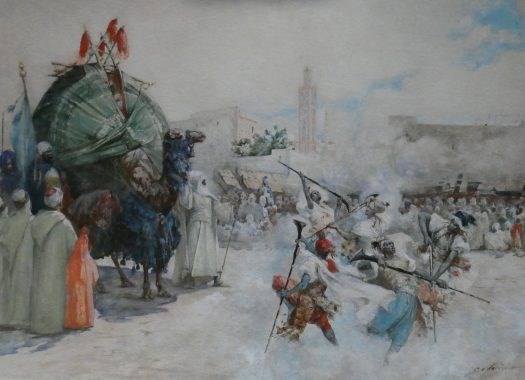 Georges Jules Victor CLAIRIN (1843-1919) –
Moroccan Fantasia
French School
Mixed technique on paper: 55,5 x 77.5 cm / 21.8 x 30,5 ins
Signed and dated '1885' lower right
Provenance: Private Collection Baden-Baden, Germany.
Painter of portraits and theatre decorations, Georges Jules Victor Clairin was a pupil of Isidore Pils and Jean-Claude Picot at the Ecole des Beaux-Arts in Paris. He was well-known for his decorations of theaters and operas. He was also an excellent portraitist.
Clairin visited Spain and Morocco with Henri Regnault. He was awarded a silver medal in 1889 and was appointed Officier in the Légion d'Honneur in 1897.
He exhibited in Paris from 1901 onwards.
Contact
Berko Fine Paintings
Kustlaan 163 - B-8300 Knokke-Heist
T +32 (0)50 60 57 90 - information@berkofinepaintings.com -
www.berkofinepaintings.com