Klaas Muller - A selection of new artworks
---
10/03/2021
Since BRAFA, we have gathered some new artworks. Amongst them, a beautiful painting by Jan Brueghel the Younger, a mythological scene by Victor Wolfvoet (inspired on a painting by Rubens), a strong Italian portrait of emperor Titus and a lovely portrait of a lady by Frans I Pourbus.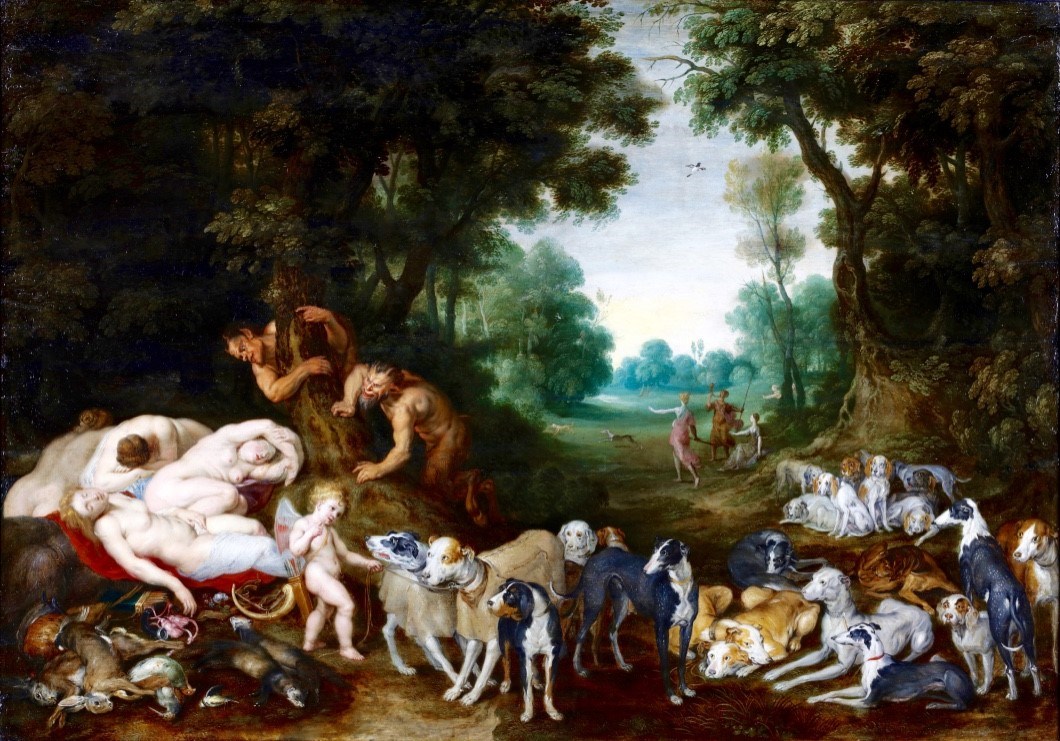 Jan Brueghel the Younger (Antwerp, 1601-1678)
Diana and her Nymphs spied upon by Satyrs
Oil on Panel
73.5 x 104 cm

The popular mythological theme of a sleeping Diana (the goddess of the hunt) was previously painted by Jan the Younger's father, namely Jan Brueghel the Elder (in collaboration with Rubens: "Diana and her Nymphs asleep", Paris, Musée de la Chasse). Jan Brueghel I designed at least 3 paintings using this subject ("Diana preparing for the Hunt", "Diana and her Nymphs spied upon by Satyrs" and "Diana returning from the Hunt"), possibly made for Albrecht and Isabellas Hunting Lodge in Tervuren. Jan Brueghel the Younger, inspired by his father's work throughout his artistic career, depicted in this painting the hunting dogs, the still-life with game and also the beautiful landscape.

These kind of subjects were and remained popular after Jan Brueghel the Elder's death in 1625. Especially in the aristocratic circles of the Southern-Netherlandish court-elite. They had the exclusive right of keeping hunting dogs (since 1613). It is therefore no coincidence that Jan the Younger (who inherited his father's studio) kept on supplying the steady demand.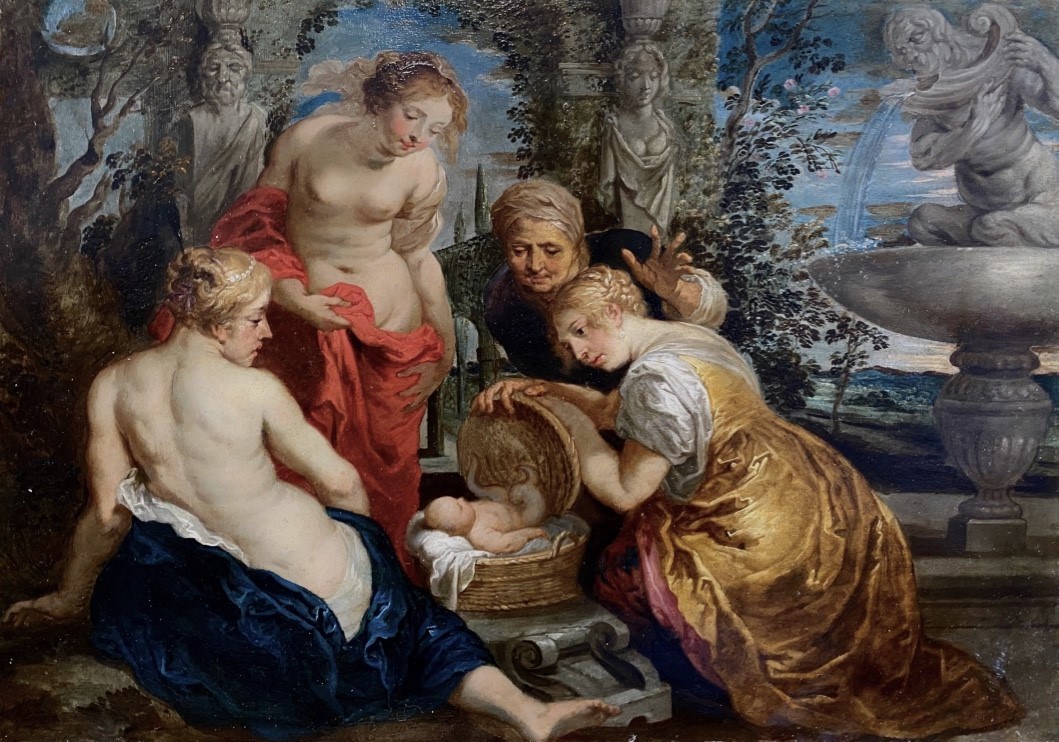 Victor Wolfvoet (Antwerp, 1612-1652)
Finding of Erichthonius
Oil on copper
27 x 39.5cm

The painting tells us the story of the discovery of Erichthonius in a basket by one of the daughters of Cecrops. Although there is no evidence Wolfvoet studied in Rubens' workshop, he is one of the most faithful followers of the great master. Probably he must have had acces to preparatory drawings or oil sketches by Rubens that he used for his own work. A fragment of Rubens' final work (canvas, now in "The Allen Memorial Art Museum", Ohio) and his original sketch (Muzeum Narodowego in Warszawie) are preserved.

Wolfvoet was a 'popular' painter with a fairly high commercial value, mainly due to these little mythological scenes on copper. Apart from being a painter, he also was an art-dealer and collector. For example, during his active career, he owned at least twenty oil sketches by Rubens (these are listed in his estate-inventory).

We are grateful to Dr. Bert Schepers of the Rubenianum, Antwerp, for confirming the attribution to Victor Wolfvoet the Younger.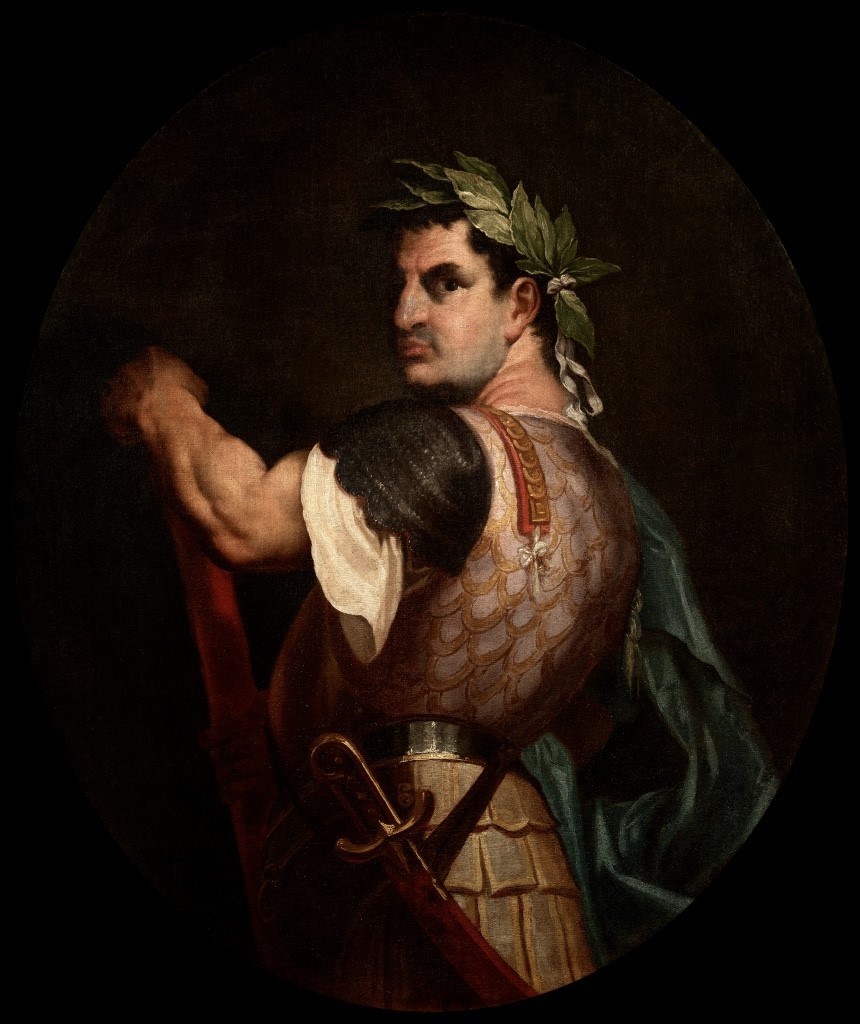 Flemish School (?) ca 1600
Emperor Titus holding a battle stick
Oil on canvas
130 x 108 cm
This impressive and powerful portrait of Titus refers to Titiaan's series of "11 emperors", painted around 1536-1540 for Federico II Gonzagas' "Gabinetto dei Cesari" in the palace of the duke in Mantua. The original paintings were sadly enough lost in a fire (in Spain, 1734) but other versions, copies and pastiches, made by different artists, survived.
The Cremonese artist Bernardino Campi was responsible for a famous set of copies (made for Francesco Ferdinando d'Ávalos, governor of Milan). His Titus -made in 1561- follows closely Titian's original designs but differs a lot from our version. In 1593 Aegidus II Sadeler engraved Titians work, probably for Rudolf II in Prague.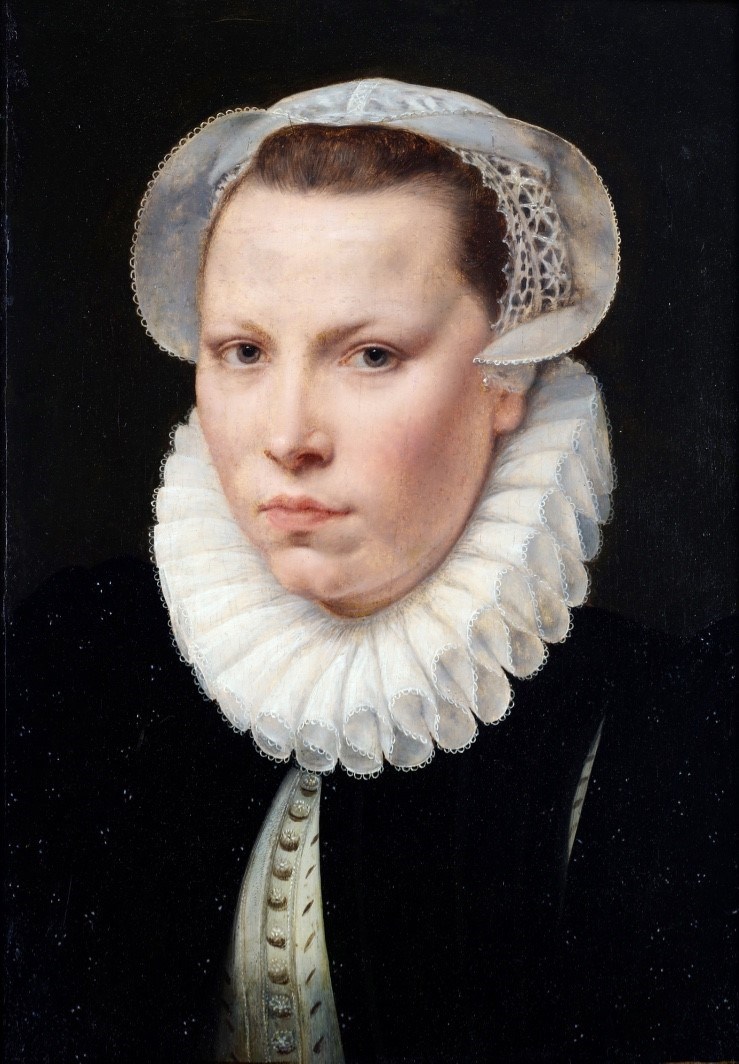 Frans I Pourbus (Bruges 1545-1581 Antwerp)
Portrait of a Lady
Oil on panel
41 x 32cm
Labels, collection and panel makers-mark on the back

Frans I was the son of Pieter Pourbus and member of a renowned painter's dynasty from Bruges. At a young age, he worked in the studio of Frans Floris in Antwerp, he even married the daughter of Cornelis II Floris. His own workshop florished and he rapidly gained a great deal of success. During his lifetime, he was already considered as one of the main portrait painters of the Netherlands and even of Europe. He also made religious works, so he was quite versatile overall. After his death (at a relatively young age), son Frans II was trained by his grandfather in Bruges.

The depicted woman is strongly comparable with a portrait that is now in the MSK (Ghent) (Inv.1907-E).
Not only do they have equal dimensions, stylistically and on a technical level they are closely related and therefore we can carefully assume they were part of the same series and possibly even the same family. Both ladies are richly attired in a fashionable black velvet gown with pearls and white silk, stitched in a gold thread. Their heads are partly covered in a white wing cap.

We humbly thank Prof. K. Joncheere for confirming this portrait as an original Frans I Pourbus.
Contact
Klaas Muller
Minimenstraat 32 | BE-1000 Brussels
m. +32 (0)478 38 18 29 |
muller.antiques@skynet.be
|
www.klaasmuller.com