Galerie Hioco - Serenity of Ayutthayā: a splendid head of a crowned Buddha
---
17/02/2021
We invite you today to discover a superb Thai bronze Buddha of the 16th-17th century.
A very complete file can be downloaded in PDF format by
clicking here
.
This complete file includes a detailed description, photos, our condition report, comparable museum artworks as well as a reminder of our guarantees.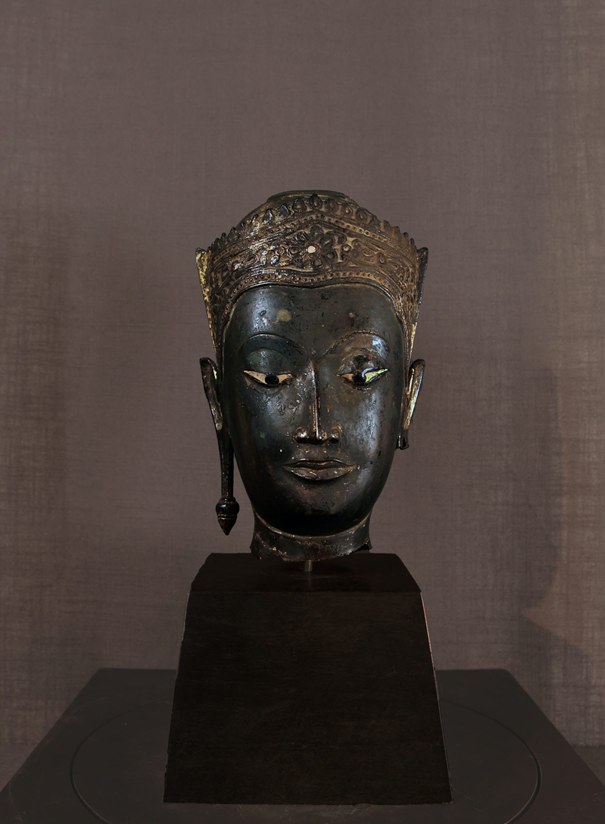 What do we like in this sculpture?
- This is the Buddha as universal sovereign: bejeweled and crowned, the Blessed becomes "cakravartin"!
- The beauty and purity of the fine and serene features contrasting with the richness of the tiara's details.
- This unique contrast of precious materials and colors: the black patina of the bronze is enhanced by the pearl white of the pupils, the whole crowned with gold.
Clément Gaësler, who takes part in the research of the Gallery, wanted to share our feelings about this head through
this short video
that you can see by
clicking on this link
.
Please do not hesitate to contact us if you need any further information: info@galeriehioco.com or +33 1 53 30 09 65. All our research, all our notices, are also freely available on our website. You can see photos of the pieces, zoom in to see all the details, and read their detailed descriptions. All our catalogs are also available for free download.
You can also follow us on Instagram (galerie_hioco_asian_art).
Best Regards,
Christophe & Gildas Hioco
Anne-Laure Bodin
+33 (0) 1 53 30 09 65
By appointment only
7 rue de Phalsbourg
75017 Paris
www.galeriehioco.com
info@galeriehioco.com
The Gallery participes to the following events:
Le Parcours des Mondes – Paris, 7 - 12 Septembre 2021
Brussels Antiques and Fine Arts fair – BRAFA, 26 - 30 Janvier 2022
Membre du Syndicat National des Antiquaires et de la Chambre Royale des Antiquaires et des Négociants en Œuvres d'Art de Belgique et de l'Asia Week New York Association, Inc.