Rosenberg & Co. - 'From a Passing Shape': Modernist Works on Paper – Henry Valensi > 27.02.2021
---
14/02/2021
"Expression was taken by me in the sense of 'expressing the juice of a lemon'— that is to say, not to be satisfied with reproducing the external appearance, but to express what is contained in oneself, and to give not the appearance, but the flavor, the thought, the intimate."
– Henry Valensi*
Our current exhibition, "From a Passing Shape": Modernist Works on Paper, explores how paper is both an artist's chosen media and the medium itself. This week, we are highlighting the rhythmic work of artist Henry Valensi.
Henry Valensi was an artist and theorist of the Cubist movement, and is known as the founder of Musicalism. Born in Algiers, Valensi grew up in Paris, studying painting at the Académie Julian with Jules Lefebvre and Tony Robert-Fleury. After traveling widely in North Africa, Turkey, and Russia, Valensi returned to Paris and became a member of the Puteaux Group, which appealed to his fascination with the mathematical and scientific foundations of Cubism.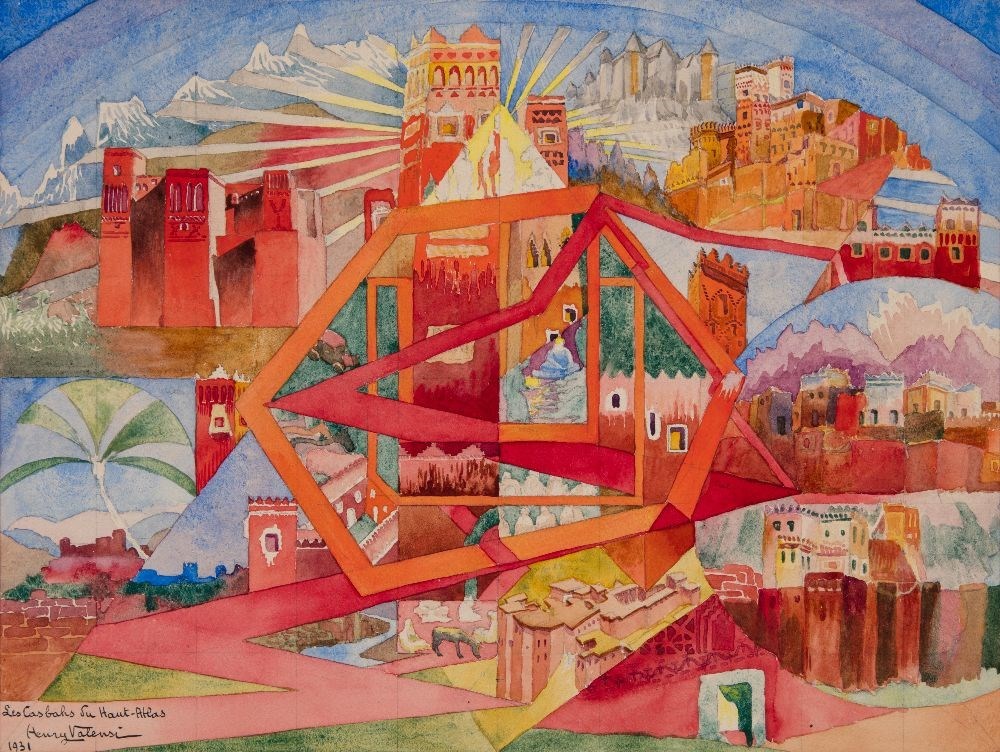 Henry Valensi,
Les Casbahs du Haut Atlas (étude n°2)
, 1931, watercolor and pencil on paper, 9.8 x 13 in.
In 1912, along with Jean Metzinger, Albert Gleizes, Juan Gris, Fernand Léger, Marcel Duchamp, Francis Picabia, and others, Valensi organized the Salon of the Section d'Or—named for the mathematical principle of the golden ratio—to great success. During the First World War, Valensi served as an official war artist, and many of his paintings of the Dardanelles Campaign were purchased by the French government and are now in the collection of the Bibliothèque de Documentation Internationale Contemporaine. Following the war, Valensi exhibited in the final edition of the Section d'Or in 1925, which also featured work by Pablo Picasso and Robert and Sonia Delaunay.
Valensi remained dedicated to the interdisciplinary innovation of abstraction, and in 1932 he founded the Association des Artistes Musicalistes. Called Musicalism, the group's artistic style was typified by rhythmic divisions, symphonic compositions, and the conception of color as a vibrational material. The watercolor above, created the year before Musicalism's official founding, bears the bright colors and energetic composition that would come to define the style. Along with Léopold Survage, Ernst Klausz, and František Kupka, Valensi pushed Musicalism to define a new interdisciplinary conception of painting, sensation, and space.
Exhibition until February 27, 2021.
Hours: Monday – Saturday, 10am – 6pm
Contact:
Rosenberg & Co.
19 East 66th Street - New York, NY 10065
Phone +1/212 202 3270 - info@rosenbergco.com -
www.rosenbergco.com