RÖBBIG München – Favourite piece of the month (2020-XI): a Gold-mounted porcelain étui à tablettes
---
13/11/2020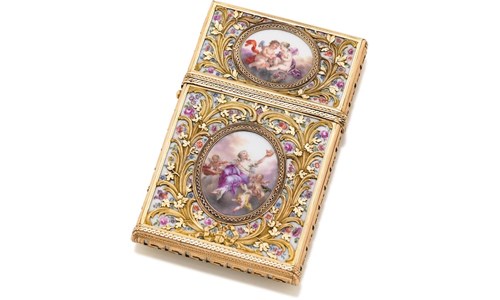 Inventiveness and craftsmanship culminated in the creation of a virtuoso luxury objects that I would like to present you today.

The slender, quiver-like étui is worked à cage, having a pierced ornamental filigree case of two-coloured gold underlaid with polychrome porcelain plaques. Each side is articulated with a vertical and a horizontal oval gold-framed medallion surrounded by expansive foliate motifs issuing from tied ribbons. Appearing behind the pierced gold work is the white porcelain decorated with scattered miniature-like flowers. On the front of the lid is a legend reading SOUVENIR. The sides are decorated with a band in the Greek key pattern, typical of the contemporary goût grec. Depicted in the main medallion on the obverse is Flora, floating on a cloud, with two amoretti presenting her with a basket of flowers. The reserve on the lid contains two more putti with a panel en grisaille showing a lady at her writing desk with Chronos hovering above her. This motif probably derives from the portrait of Madame de Pompadour as protectress of the arts; engraving by Charles Nicolas Cochin II after Charles Joseph Natoire, c. 1745. In the original version Fama floats above the mistress of Louis XV; here she has been replaced by Chronos as the personification of time and/or eternity.
The large medallion on the reverse displays an allegory of riches presenting a crown and attended by three amoretti with jewels and strings of pearls. The upper medallion contains an allegorical representation of friendship with two putti clasping hands and a pair of interlinked floral wreaths. The tall lid is opened by depressing the button on the side to release the catch and raising it on its hinge. Concealed inside are a three-leaf set of thin ivory tablets and a pencil with a gold cap.

Based on pictorial inventions by François Boucher (1703–1770) or Charles Joseph Natoire (1700–1777), the images can probably be attributed to the porcelain decorator Johann Georg Loehnig (1743–1806), who had worked for the Meissen manufactory since 1763 [cf. Barbara Beaucamp-Markowsky, Porzellandosen des 18. Jahrhunderts (Munich, 1985), p. 145, cat. no. 109 and p. 219, cat. no. 174]. Until well into the 1770s he chiefly decorated snuff boxes with 'figures from Watteau and Ovid', 'grotesque depictions of children' and 'fine putti'.

Even if the outward appearance of the present étui is wholly in the tradition of French examples from the Louis-Seize period, its filigree à cage mounts are a speciality of the Dresden goldsmiths' workshops of the later eighteenth century. Several étuis à tablettes from the workshop of Johann Christian Neuber with almost identical souvenir legends are known [cf. Alexis Kugel (ed.), Gold, Jasper and Carnelian. Johann Christian Neuber at the Saxon Court (London, 2012), pp. 370f., cat. Nos.194–198.]; among these an example signed 'Neuber à Dresde' dating from around 1765 with à jour gold mounting of oval medallions among floral scrollwork would seem to be a precursor of the present étui. A group of snuff boxes attributed to Neuber also displays the combination of Meissen porcelain plaques and elaborate gold à cage mounting.

In terms of its extravagant material and superb ornamental craftsmanship, the étui can hardly be surpassed in splendour and costliness. It was presumably a gift given by an aristocrat in Dresden court circles to a lady who was the object of his adoration, its allegorical depictions intended to recommend him to her in token of enduring friendship.

The tradition of étuis with small writing tablets goes back to the Middle Ages. Before the use of paper became common, notes could be made on small tablets with a stylus. During the era of Louis XIV the étui à tablettes assumed the shape of a miniature book with pages of paper or parchment, often embellished with rich gold mounts. In the middle of the eighteenth century lavishly decorated étuis became widely popular, undergoing various modifications and eventually containing a range of different writing implements and becoming ever more refined and precious in their execution. Madame de Pompadour, for example, ordered 'une tablette de lacq fond aventurine, sans charnières, à deux têtes de porte-crayon garnies d'or' [Serge Grandjean, The James A. de Rothschild Collection at Waddesdon Manor. Gold Boxes and Miniatures of the Eighteenth Century (Freiburg, 1975), p. 138] from her marchand-mercier Lazare Duvaux in 1753 at a cost of 290 livres. Incorporating the legend 'souvenir' or 'souvenir d'amitié', such étuis became typical expressions of the cult of friendship that was the height of fashion at the end of the eighteenth century.

Often preciously decorated, these delicate pocket-sized étuis have frequently been erroneously referred to since the nineteenth century as 'carnets de bal', even though in the eighteenth century they were only seldom used by their high-born owners at balls to note the sequence of the partners to whom they had promised dances.
David Johannes Ranftl
David J. Ranftl studied History of Art, Bavarian History and the History of Byzantine Art as well as European Ethnology and Italian Literature and Language at the Ludwig Maximilian University of Munich from 2006 to 2013, concluding his studies with a master's thesis on the culture of fans at the Munich court between 1850 and 1914. Since 2014 he has worked for Röbbig München as an expert in furniture and the applied arts.
Contact
Röbbig München
Brienner Strasse 25 - 80333 Munich - Germany
Phone +49 89 299758 –
www.roebbig.de