Galerie Oscar De Vos - Picasso Etchings - 28.10 > 29.11.2020
---
30/10/2020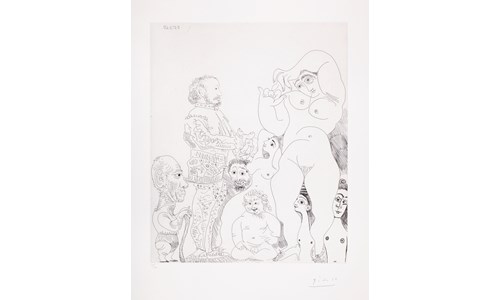 Galerie Oscar De Vos is pleased to announce the exhibition of a selection of Picasso's printed oeuvre. We are making the attempt to give the opportunity to offer a selection of the graphic work of a great master, exhibited with artworks of Flemish Expressionism, by Latem School painters. The exhibition has been made possible with the ongoing interests and active input of Oscar De Vos, who has not only placed his own taste and collection at the exhibition, but has also seconded the undertaking with great personal effort and the passion of a true collector.
The printed graphic work of Pablo Picasso shows a clearly defined succession of periods, in each of which a certain technique predominates. The copperplate with its variants of the etching and the dry point early fascinated the young artist in the Parisian ateliers of the masters of this craft, who initiated him into many new techniques. Later Picasso became the possessor of a press of his own on which he made numerous trial proofs and thus explored the secrets of printmaking.
Picasso's message lies in his highly individual creative will and is often fecundated by the variation of the themes which his shaping mind seizes upon. It is becoming increasingly evident to the attentive observer that Picasso's graphic work in its present stage represents an extremely important aspect of his later production. The artist gave his virtuosity as an engraver or exercise that vitality and joy in experiment that made his prints a world of their own, a world of such richness, hardly suffice to explore it in all its aspects. In 1968 Picasso had done the Serie 347 etchings in a matter of half a year. All those who knew Picasso well were bound to him by genuine affection. But affection for Picasso as a man is inseparable from respect and love for his work.
The exhibition PICASSO ETCHINGS comprises a sampling of 21 signed engraving by Picasso of the compositions which the artist executed between 1927 and 1971. His graphic work will present multifarious aspects of his etchings in this modest exhibition.
More info about the exhibition
here
Exhibition
Wednesday 28th October till Sunday 29th November 2020
Opening hours
ednesday to Sunday 14:00 – 18:00
Or by appointment
Contact
Galerie Oscar De Vos
Latemstraat 20, 9830 Sint-Martens-Latem, Belgium
+32 9 281 11 70 |
info@oscardevos.be
|
www.oscardevos.be