Galerie Oscar De Vos - Flemish Expressionism - 28.10 > 29.11.2020
---
30/10/2020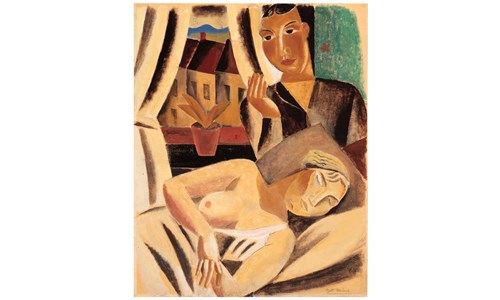 For fall 2020, the Galerie Oscar De Vos is pleased to show 25 paintings presenting the 1920's art of Flemish Expressionism.
The fame of Constant Permeke, Gustave De Smet and Frits Van den Berghe – the group of three Flemish expressionists – did not only arise from their connection with Laethem, but mostly from the prominence given to their work by a Brussels art gallery and the art review magazine, both entitled Sélection, run by Paul-Gustave Van Hecke and the art critic André De Ridder. From August 1920 Sélection showed work by the three members of the second group of Laethem and by foreign artists, including Picasso, Matisse, Dufy and Foujita, until it was obliges to close down in 1931 as a result of the depression.
'Flemish Expressionism' was the name coined by Sélection to denote, exclusively, the work of this group of three. If the influence of the first group of Laethem on the second was by no means overwhelming, that influence was nonetheless significant. First the emphasis given by the painters of the first group to the flat Flemish landscape, weighed down by leaden skies, was retained by De Smet and especially Permeke. Second the monochrome browns used by Servaes – the painter of the first group who was the main precursor of Flemish expressionism – reappeared in the landscapes of the second group, at their muddiest and most intransigent in Permeke. Finally, the vision held by painters of the earlier group of the simple life of Flemish villagers, strong and unsentimental, was retained, simplified and strengthened by the three. Like the first group of Laethem the second group was a very self-aware circle; more so than the first group. The artists of the first group were linked by personal affinity and by place. The three protagonists of Flemish Expressionism were not only close friends but had, until Van den Berghe's shift towards surrealism, similar visions, and shared broadly similar techniques and palettes even if their personal styles differed.
The exhibition FLEMISH EXPRESSIONISM comprises 25 artworks and masterpieces from the period 1920-1940 by Albert Servaes, Constant Permeke, Gustave De Smet, Frits Van den Berghe and Hubert Malfait among others.
More info about the exhibition
here
Exhibition
Wednesday 28th October till Sunday 29th November 2020
Opening hours
Wednesday to Sunday 14:00 – 18:00
Or by appointment
Contact
Galerie Oscar De Vos
Latemstraat 20, 9830 Sint-Martens-Latem
Belgium +32 9 281 11 70 |
info@oscardevos.be
|
www.oscardevos.be