Galerie Sismann - Gothic : From the Art of the Cathedrals to the German Spätgotik - 15.09 > 15.11.2020
---
29/09/2020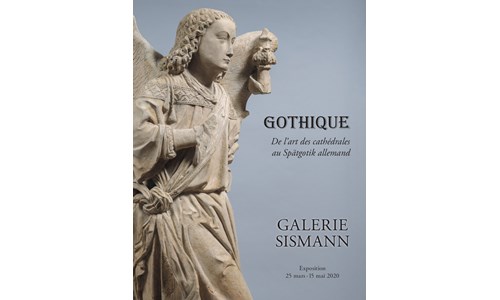 Gothic : From the Art of the Cathedrals to the German Spätgotik inaugurates a new cycle of exhibitions at the Galerie Sismann intended to celebrate our new location on the Quai Voltaire.
This first event is devoted to medieval sculpture offers an opportunity to discover some of the most stunning medieval works from the Collection of Gabriela and Mathieu Sismann.
Old Master sculpture and works of art specialists Gabriela and Mathieu Sismann are passionate about medieval art. For the past twenty-five years, they have placed their knowledge and expertise at the service of amateurs, collectors, and museums in order to share with them their excitement for the artistic creations produced during this period, as well as to introduce them to newly unearthed works of art.
This catalog presents a selection of works from Italy, France, the Old Netherlands and the Germanic countries, all of which were produced between the end of the 12 th century and the first half of the 16 th century, thus offering readers a vast panorama of sculpture of that period. Most of the pieces presented here either come from prestigious former private collections or are recently discovered pieces never before seen in the art market, constituting truly exciting findings for art lovers and historians. Among these treasures are two important Gothic heads from Chartres and Reims from the 12 th and 14 th century, an exceptional Virgin and Child from the end of the 14 th century attached to the oratory of the Abbey of Saint-Georges de Boscherville, and two more fragments of Swabian altarpieces from the illustrious Claer Collection. These pieces are joined by over two dozen other works of art including some masterpieces made up of sculptures in the round, ornate architectural elements, and fragments of altarpieces.

All of these works have been attributed thanks to the expertise and meticulous work undertaken by the team at Galerie Sismann, whose research findings have been summarized in the following pages. These descriptions, together with the complete documentary file for each of the catalog entries, are available in English upon request.

We would like to extend our sincere gratitude and appreciation for all the people who have accompanied us throughout this journey: Hadewijch Bal (Museum Hof van Busleyden - Mechelen), Annie and Philippe Blanc, Gaël Bordet, Céline Brugeat-Peuffier, Anna de Torres (Musée des Augustins - Toulouse), Christophe Fouin, Sophie Guillot de Suiduraut, James Kohler (The Cleveland Museum of Art), Lieve Loos (Musée Mayer van den Bergh - Anvers), Anne-Sophie Luyton (Musée Marmottan-Monet - Paris), Massimo Medica (Museo Civico Archeologico - Bologna), Fabian Müller (Landesmuseum - Zürich), Karen Schnell (Bayerisches Nationalmuseum - Munich), Rebecca Shear (The Met Cloisters - New-York), the city of Gergy.

We look forward to welcoming you to enjoy these singular artistic creations.

Gabriela and Mathieu Sismann with their collaborator, Manon Lequio
Consult the catalog
here
.
Contact
Galerie Sismann – 33 Quai Voltaire – 75007 Paris
Tel. : + 33 1 42 97 47 71 - galeriesismann@aol.com –
www.galerie-sismann.com