Galerie Jean-François Cazeau - Formes et corps dans l'art à travers les siècles > 03.09.2020
---
22/07/2020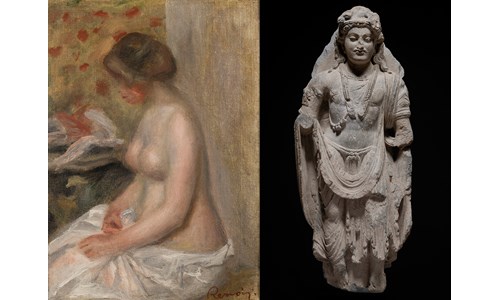 Nothing might have evolved so much as the representation of the human form over the course of the last centuries. The human ideal has transformed from an original idealisation of man or the Kouro, to the search for absolute realism and exact proportions. In the 20th century, the idea changed again into a concept of the form, the simplification of the lines and a drastic change of dimensionality. From antique sculpture, to works by Alberto Giacometti, Pablo Picasso and Robert Combas, this exhibition showcases the different shapes and forms that human representation has taken in the course of the last centuries.
Visit the new presentation on our website by clicking on
Viewing Room
.
Caption:
Pierre-Auguste Renoir
Torse, 1895-96
Oil on canvas
24 x 14.5 cm / 9.5 x 5.75 in.
Atelier stamp on the lower right 'Renoir'
Bust of Bodhisattva
Gandhâra, Kouchane, 2nd to 3rd century
Pakistan, Kushan period
Grey-biege schist
H 67 cm / 26 1/2 in.
Galerie Jean-François Cazeau, 8 Rue Sainte-Anastase, FR-75003 Paris I t. +33 (0)1 48 04 06 92 m. +33 (0)6 03 79 76 26 Ijfc@galeriejfcazeau.com I
galeriejfcazeau.com