The Royal Museums of Fine Arts of Belgium - Walk in and get inspired !
---
21/07/2020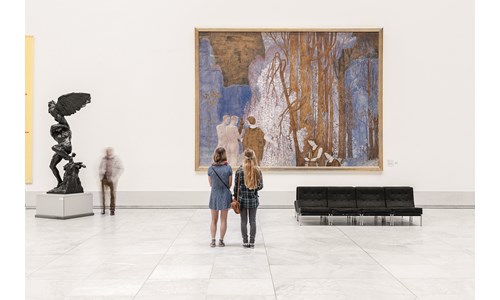 The Royal Museums of Fine Arts of Belgium have reopened since 1st July. Spend a great time in safe conditions at the Old Masters' collection and the Magritte Museum.

The Old Master' collection covers a period running from the 15th to the 18th centuries. The bulk of this collection consists of the painting of the former Southern Netherlands, with masterpieces by Rogier van der Weyden, Petrus Christus, Dirk Bouts, Hans Memling, Hieronymus Bosch, Lucas Cranach and Gerard David. For the 16th century, Pieter Bruegel the Elder is magnificently represented with major works like The Fall of the Rebel Angels or The Census at Bethlehem. Finally, for the 17th and 18th centuries the Flemish School is represented by Peter Paul Rubens, Anthony van Dyck and Jacques Jordaens, the French and Italian schools by Simon Vouet, Philippe de Champaigne, Le Lorrain, Jusepe de Ribera, Giovani BattistaTiepolo and others ... Also, (re)discover the renovated wing 'Dutch Galleries' with masterpieces of the 17th century by artists such as Rembrandt Van Rijn, Frans Hals, Nicolaes Maes, Abraham Bloemaert, Jan van Goyen, Jacob van Ruisdael and Pieter de Hooch.

The Magritte Museum presents an outstanding collection of works by Belgian Surrealist artist René Magritte (1898-1967), one of the world's most famous artists. The collection of over 200 works is the largest in the world. Nothing is better than sharing amazing, inspiring and thought-provoking art with curious minds!