Puzzle & reflection time for Chairman Harold t'Kint de Roodenbeke
---
05/05/2020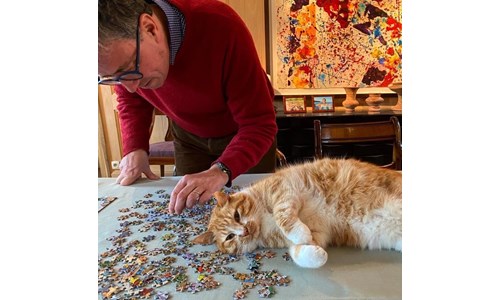 What has been keeping you busy these days?

Harold t'Kint de Roodenbeke, chairman of the BRAFA Art Fair and owner / director of Galerie Harold t'Kint Fine Arts shares a moment of his 'at home' time and personal thoughts: "After managing the BRAFA board and strategy for the next fair in January 2021, I do cherish the sweet moments at home. This strange period must serve us to think about our family, our lives and our way of working.
Living with art, like we do with this nice Sam Francis in the dining room behind me, is a great opportunity. We all love the energy contained in the works by Sam Francis (1923 - 1994). That American artist, one of the leaders of the action painting in the US, was a pilot like my wife ! During test flight maneuvers, he crashed into the desert in 1942 and spent 3 years in his bed. Once a friend brought him material to paint and draw, it was a discovery. After a masters in art in Berkeley, he became one of the major American post-war artist.
Sam Francis said that painting during his convalescence was like a resurrection for him. Feeling this work is like a big bang of primary energy and life.
In this circumstances and strange period of time, art could be the reason for our « rebirth », our return to an active life, but above all, the return to a better balanced life centered on essential and human values." Stay safe, stay healthy and stay inspired!